I saw this great DIY Pinball Machine Coffee Table on Geeky Gadgets last week. It was made from an old pinball machine found on a dump in the US by www.zieak.com. There are links you can follow for instructions too. Let us know if you have had a go at anything similar or have any ideas for unusual items for your home, particularly if it includes recycling!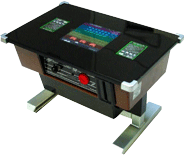 Of course you can always look out for bargains  such  as an old Space Invaders machine to use as a coffee table - take a look at our project on arcade machines for inspiration.
---
See our Other Great Content
---
Tell us What you Think
Leave a Reply
You must be logged in to post a comment.