DIY Doctor are pleased to welcome Sylglas to the website. As a company, they offer a wide range of easy to use sealing, waterproofing and safety products and applications for the DIYer's home and garden.  They have joined our Lead Flashing project page to show an alternative to lead flashing which is their own Flashing Tape.
The Flashing Tape is very easy to use, you just peel and stick, and it provides a lead like finish which bonds to all common roofing and building surfaces, giving a long lasting seal. It is ideal for sealing and repairing your damaged flashings, including valley gutter repairs and any extension flashings.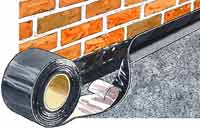 ---
We Love Comments
What do you think about the above post? Let us know by leaving your comments below.
Leave a Reply
You must be logged in to post a comment.
See our Other Great Content
---