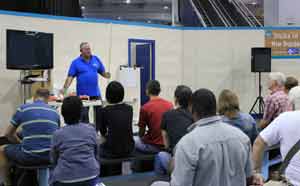 Mike Edwards (The DIY Doctor) in action at the Tricks of the Trade stage at The National Home Improvement Show 2011. Hundreds of people attended the fifteen talks and demonstrations over the three days of the show, and Mike was available to answer lots of queries and questions that people had regarding their own home projects.
Mike was also able to give lots of advice to visitors on how to avoid cowboy builders when employing a contractor, including using a contract such as our 'Desired Outcome Building Contract', getting references and using a service such as our 'Find a Tradesman' to ensure your tradesman is reliable and insured. We got some great feedback from the presentations and met some great people, hopefully giving them help and advice to make them feel more skilled and confident to tackle their own home improvements and also deal with contractors.
---
We Love Comments
What do you think about the above post? Let us know by leaving your comments below.
Leave a Reply
You must be logged in to post a comment.
See our Other Great Content
---