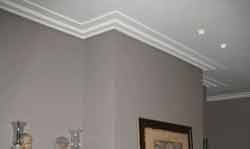 We often neglect the ceilings in our homes but putting up coving can really smarten up a room and is obviously a good project for the winter months when we want to be DIYing indoors! It is a relatively simple DIY task but reading up on the method and practising how to cut coving is advised.
There is a great project on the website that gives instruction on measuring and cutting (or mitreing), fitting and fixing your coving and also some advice on different types of coving including a great alternative to plaster coving called Orac Polyurethane coving available from Davuka.
As well as coving there are all types of decorative mouldings available from Davuka GRP Ltd including ceiling roses and domes, architrave, flexible cornices, dado rails, skirting and columns.
---
We Love Comments
What do you think about the above post? Let us know by leaving your comments below.
Leave a Reply
You must be logged in to post a comment.
See our Other Great Content
---