As you know DIY Doctor has been working with TrustMark to improve the customer experience when homeowners employ tradesmen, to give them to tools necessary to avoid employing a Cowboy Builder. Now you can make use of a new TrustMark App to ensure you ask all the right questions of your builder before you sign a contract, and start work.
We announced the release of our Desired Outcome Contract last year. Click here to download your free copy, which details what is expected from the homeowner and the contractor at each stage of your build, but what about the questions you should ask so you can set this up and just as importantly, the answers you should expect?
TrustMark have devised their app so that anyone can use it from the novice first time buyer, to the committed self-builder. Even seasoned developers can use it as a prompt and record keeper when discussing building works. This will make it even easier to write your contract, taking you through the process of the build step-by-step to make sure you don't forget to ask anything.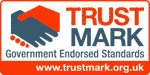 Liz Male, Chairman of TrustMark, explains "In 11 easy steps, the app creates an instant record of the conversation. It prompts questions and provides advice at every stage telling you what to look out for and your consumer rights.  You can record what is agreed using text, photos and record a brief audio note, and then email a copy to yourself and the tradesman."
Our founder, Mike Edwards, was at the launch of the app which was announced by Vince Cable, Secretary of State for Business, Innovation and Skills, at a reception in Westminster attended by trade bodies and consumer protection groups.
At the launch, Vince Cable said "The newly launched application provides another useful tool to consumers by bringing TrustMark's expert guidance directly to householders through the latest innovative channels."
He was at pains to point out that the majority of Trades are honest and professional. He and Mike agree that it is time that the building industry is regulated to protect consumers and to improve the perception of the industry in the public opinion.
Mike Edwards of DIY Doctor says "This recording of your meeting is likely to be something that a good builder will welcome and a bad builder will shun".
DIY Doctor will continue to push for more tools for Cowboy Control and hope to work with the Government directly as well as continuing to work with TrustMark to achieve this goal.
 
Download the app: www.trustmark.org.uk/apps 
Or if you have an iPhone or iPad download it off the iTunes link:
http://itunes.apple.com/us/app/tradesman-conversation-recorder/id524650511?ls=1&mt=8
A paper copy of the questions and guidance is also available to download: www.trustmark.org.uk/apps/print/
For further information about TrustMark visit:
www.trustmark.org.uk/latest-news/press-releases/trustmark-latest-key-facts
Watch the 'Talk to your Tradesman' video at: www.youtube.com/user/trustmarkuk/videos
---
We Love Comments
What do you think about the above post? Let us know by leaving your comments below.
Leave a Reply
You must be logged in to post a comment.
See our Other Great Content
---