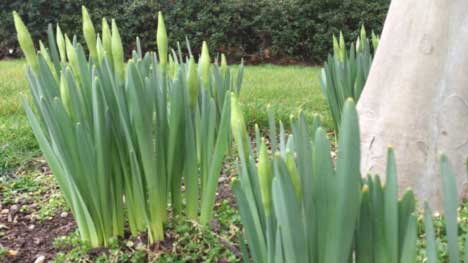 You may not be able to actually get out into the garden today, but you could spend a few minutes over coffee or at lunchtime making a list of jobs to do in the garden this weekend.
St. David's Day marks the end of winter for me, and while true Spring is a few weeks away, the 1st of March is a time for getting out into the garden for an hour or two, to get it ready for those longer, warmer days.
The symbol of St Davids Day, the Daffodil, is one of the main markers of spring for me. The ones outside my window are still green, but they are poised ready to burst into life, which is how I think of the whole season of Spring: Its promise of bounty to come, and the hope that 'this year we will get a proper Summer'.
In readiness for those long hazy summer days in the garden here a a few seasonal suggestions to keep your garden in great shape this year:
____________________________________________________
Lawn
You probably haven't even looked at your lawnmower since you stashed it away at the beginning of winter, but it is worth just getting it out and cleaning it – if you didn't do that before storing it away.
If it is electric check the cables are in good condition, not split and not damaged by rodents. If you don't already have one you should buy an RCD – residual current device, to prevent electrocution in case something does go wrong when you are using your electric lawn mower.
If it is a petrol mower check that the spark plugs and air filter are clean, check the fuel level, and make sure the wheels run freely, start your mower now so you can be sure it will be in working order when the grass needs cutting, and if you do find there is a problem you can beat the rush at the lawnmower repair center by getting it in now.
____________________________________________________
Borders
Weeds will already have started their life cycle so wander around the borders hand weeding any you know to be weeds, if you have a large garden you may choose to do this using a garden hoe, but they are less discriminating so you might inadvertently uproot something you didn't mean to. You also don't get any of those welcome surprises – when something has self-seeded, that you actually want.
Work around the edges of the borders with a half-moon edger, to give your garden a crisp and well maintained look, this will also help prevent the creep of grass into the flower borders.
____________________________________________________
Pruning
Several trees respond well to a hard prune at this time of year, including willows and Eucalyptus, as do shrubs such as Buddleia.
You can also trim Winter Flowering Jasmine into shape, although there is no need of a drastic prune here. Roses should be have been pruned already, but if not you can get in quick and do it now. Late flowering clematis should also be pruned now, as it will flower on the new shoots each year.
____________________________________________________
Divide and rule
Lift and divide large clumps of Hostas so that they can become established before the slugs set on them in earnest.
____________________________________________________
The Herb Garden
Some herbs will survive the winter, particularly if they are in a well drained position, others should be sown or bought each year. You can sow parsley, basil and corriander on a windowsill now ready to transplant into the garden later.
____________________________________________________
The Vegetable Garden
You can sow root crops such as carrots and beetroots outside now, as well as brassicas, broad beans, and peas. Salad crops like lettuce, radish and spinach can be sown under cloches.
As it is St Davids Day we should also make special mention that leeks can be sown now. You can also plant onion sets under cover, although personally I don't grow onions. I must admit to buying them as they are so cheap, but anyone who wants to win prizes at the county show will surely be clutching their head in their hands now!
Pay attention to fruit netting which may have become dislodged or damaged by wind over the winter.
____________________________________________________
Feed and mulch
Dig compost into borders, the compost should be well rotted now having spent the winter maturing, but be aware that  this is quite hard work. If you have not been terribly active recently, do it in sections, take breaks or mix it in with other less strenuous tasks.
Feed spring bulbs in flower beds by sprinkling granular fertiliser around the clumps.
____________________________________________________
Now the best bit
Go back into the warm (maybe have a bath) then sit with a cuppa, and browse through the seed and bedding plants catalogues and websites to plan a fabulous summer display!
---
We Love Comments
What do you think about the above post? Let us know by leaving your comments below.
2 Responses to "Jobs in the Garden for St David's Day"
Leave a Reply
You must be logged in to post a comment.
See our Other Great Content
---