We are sprucing up our newsletter to keep our regular users up to date with what is happening in our world in a more attractive way.
Our newsletters have proved very popular with our readers and we send them out once a month to highlight all the changes to the site, DIY and building news, and anything else we think you would like to know. We will also be starting to offer competitions (with prizes!) and quizzes.
So if you are not yet signed up and would like to receive our monthly news letter then please click through to sign up.
It is easy to subscribe and unsubscribe and we will not bombard you with spam, or share your information around to others.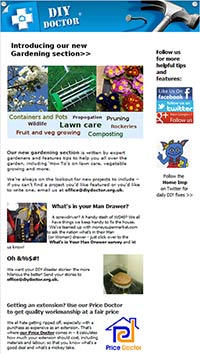 These are some of the subjects we will be covering
Contract
Price Doctor
Tools
Books
Video reviews
Video tutorials
Advertising
AD Doctor
Guest blogs
Mikes Book – 'Master Basic DIY'
Blog
Find a Tradesman
Forum
Gardening
Green Living
HIPS – Home Improvement Protection Solution
Home IMP
Newsletter
Price Doctor
Projects
Property
Shop
Videos
Home Improvement/DIY
Self-build
Renovation
Garden
Craft/upcycling
Trade Skills
---
We Love Comments
What do you think about the above post? Let us know by leaving your comments below.
One Response to "Newsletter redesign"
Leave a Reply
You must be logged in to post a comment.
See our Other Great Content
---