DIY Videos are a Great Sucess
We have noticed how much our readers like to watch videos on all aspects of DIY, Home Improvement, Tools and Building works and Avoiding Cowboy Builders.
All our videos get uploaded onto our website or DIY Superstore, but if you want to see our complete range of videos all in once place then you can subscribe to our You Tube Channel to be updated with all our latest video offerings which include:
Video Tutorials on How To do DIY projects
Video Product Reviews
Video Guides on How To use tools
Video Tool Reviews
The Best Tool for the Building Job you are doing
How to Avoid Cowboy Builders
Funny Videos
Trade Show and Exhibition Presentations
Winter Give Away Competition
To celebrate this milestone we have a great give away on our competition page. Our sponsors Irwin, Milwaukee and Everbuild are kindly donating tools and products to give away to you, so simply answer the simple question for a chance to get a great DIY prize.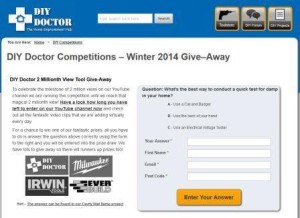 ---
We Love Comments
What do you think about the above post? Let us know by leaving your comments below.
Leave a Reply
You must be logged in to post a comment.
See our Other Great Content
---