With over 120,000 people reading a total 20,000 pages on the DIY Doctor website every week we get a great deal of feedback regarding our work.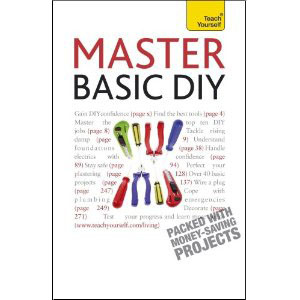 Some of this feedback comes to us from the most unusual places and one such approach was from the publishing giants Hodder.
Having published "Teach Yourself" books for 60 years, Hodder are well placed to see which titles will appeal to the market. Luckily a Teach Yourself DIY book was considered to be this years most popular choice.
Take a look at the videos below to find out more about DIY Doctor,the authorand our very own Teach Yourself title:- MASTER BASIC DIY.
You can also read the testimonials and reviews a little further down.If you think we have made them up, check them out on the Amazon website!
We hope you enjoy the video and if you would like to buy the book please click here to purchase MASTER BASIC DIY. Click below to purchase your copy now!
Get your copy now! Click below
Master Basic DIY Book Testimonials:
"Fantastic book! It has become my DIY reference book of choice - good for learning about basic house maintenance as well as more major projects. It has given me the knowledge and confidence to have a go without needing a man about the house!"
"I was amazed when I flicked through this book when I was at the National Home Improvement Show. It is quite clearly written by someone who "knows their stuff" inside out. Simple principles are explained which give real explanations as to why houses are built the way they are. From this well written, easy to use book I found out not just how to complete a number of otherwise difficult projects, but what was happening every time I put a screw in the wall or turned a switch on...Since then I have been a regular visitor to the website also....Invaluable, both of them. Well done "