How many times have you heard on the TV or read stories in a newspaper about the breakdown of a relationship between a home owner and their builder?  With a little negotiation with your potential builder early on in the process this does not need to happen! You need a simple building contract to protect both you and the builder.
Get your Free Building Contract Now:
What our Other Customers say
I won't have any more work done without a contract ever! The builders I employed turn up, get the job done and don't mess around. Never in my time as a landlord have I found a project so easy to manage! Wish I'd looked at contracts earlier - Mathers from Hemel Hempstead
Using Contracts for Building Work
Using the standard DIY Doctor Desired Outcome Building Contract you can cross all the t's, dot all the i's and leave nothing to chance. It's FREE to download and includes detailed notes on what each and every sentence means. The Building Contract covers all manner of work including extensions. It has been prepared by DIY Doctor Ltd with the assistance of Buckworth Solicitors (www.buckworthsolicitors.co.uk)
Not only will a building or extension contract ensure that you are happy with the completed job but it will also ensure that the job as a whole runs smoothly, on time and that all parties involved know exactly what they are doing, when they are doing it, what is involved in the work, how the completed job will be presented, whether required insurance cover is in place, when money will be changing hands and, very importantly how much!
This contract is not just to protect you; your builder will be pleased to sign it as it protects him also. You both have the same aim with regard to your project. A good job for the right price. Our Desired Outcome Building Project allows you both to achieve this.
Checking Builders Quotes
If you are in the process of planning home improvement work, one thing you may have overlooked is a contract to ensure that any building work undertaken is completed to your desired standards and the legal requirements of the UK Building Regulations.
If you are at the start of your journey or just want to check over your builders quote. Use our Price Doctor extension quote checker to get a good idea of the price that your extension should be. It is really useful for understanding why the various quotes you have vary quite so much which will allow you to pick the builder that best suits your style and budget.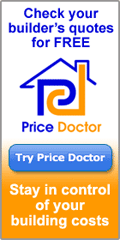 Payment Protection for Building Projects
One last thing to consider before you start your project is payment protection. This is a mechanism that ensures that the builder or tradesman is paid when he is due and that the homeowner get the service that they were promised at the outset. If you have not worked with your builder before this is another good way to protect both you and them. To find out more about how payment protection for building work works see our project all about it.
We wish you well with your project and look forward to hearing about it – let us know how it goes. It would be great if you could send us some pictures so we can see how you are getting on: