This page includes links to all of our Asbestos related DIY how to projects. Browse through the below list and click on your chosen link to view the project information.
When you discover asbestos or are working with asbestos there are clear guidelines that you must follow laid out in the control of asbestos regulations 2012. These can be found in detail on the government's legislation website.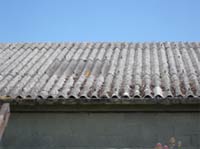 Do you have to remove asbestos?
No, not necessarily. But you do not but it must be in good condition and unlikely to be damaged and therefore pose a health risk. You must monitor the condition of the asbestos and make sure that it is not disturbed and it will remain safe. It is when it is disturbed or damaged that it is a health risk.
You must: If you find asbestos you should notify the relevant authority to carry out a check to confirm how safe it is – all the details are found in our removing asbestos safely project. Use the link above.
Removing asbestos yourself?
Never attempt to remove any spayed asbestos, lagging or insulating boards yourself. These jobs must be completed by a licensed contractor.
Asbestos is a hazardous material and not a job to be tackled if you are not sure what you are doing. If in doubt stop and get help. Most work must be carried out by a licensed contractor and they are specific rules that govern how they must work. A lot of the work that is carried out removing asbestos needs to be notified to the relevant enforcing authority - and this does now include some non-notified work too.
In order to carry out unlicensed work tradesmen must be trained, have all the correct protective equipment and there should be a plan how the work will be tackled. This is the bare minimum and their training will cover the strict guidelines for the type of work that they are conducting.
For more information about asbestos in domestic properties and what the Health and Safety Executive recommend, please have a look at their website here.
We suggest that you avoid working with asbestos, but if you are going to work with asbestos you should take the following precautions as a minimum:
Make sure that no one else in is the area or especially downwind
Wear protective clothing – Overalls, gloves, dust mask, ideally with 'CE' mark to 'EN149' with FFP2 particulate filters
Do not cut, scrap or drill asbestos
Don't work overhead and keep the asbestos wet while you are working with it
Don't use a domestic hoover to clear up; hire one for the job as you need to get all the dust out of your home as soon as possible. The vacuum cleaner should conform to the standard BS5415 (Type H)
Dispose of all protective clothing in double bagged bags marked with "ASBESTOS" and wash any non-disposable overalls and clothes immediately in a washing machine
Disposing of Asbestos
For small pieces, dispose of waste asbestos in marked, strong plastic bags – "ASBESTOS" marking needs to be clearly visible. NEVER break them into smaller pieces.
If the pieces are too large for bags, wrap them in plastic sheets and mark them clearly in the same way. Do not attempt to cut or break the pieces up into smaller sizes.
DO NOT put asbestos into the dustbin. Contact your local council for advice about where you can dispose of it.
It is possible to remove asbestos yourself, but it is a hazardous material that can be a health risk so it is worth getting a licensed contractor to do it for you if you can. If you have to dispose of the asbestos yourself, then this section has some suggestions about how you should go about removing the asbestos, and there are some useful links to websites that will give you some more up to date advice.