This page includes links to all of our Bathroom related DIY how to projects. Browse through the below list and click on your chosen link to view the project information.
As houses have grown in size, the need for more bathrooms and toilets has been greater. En-suite bathrooms are in vogue and conversion of smaller rooms into bathrooms is common amongst the home improvement tasks undertaken by DIY Doctor users. The following pages offer a great deal of help with the operations, tools and products needed to create a luxurious bathroom, wet room or shower room complete with all modern fixtures and fittings.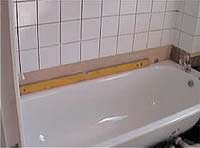 The use of traditional materials such as claw feet baths and profiled basins is increased and by combining the traditional look with contemporary technology a superb finish can be achieved.
70 years ago there was no such thing in most of the UKs homes. It was very often the case that children would be bathed in the kitchen sink or a tin bath in the front room, while we walked to the end of the garden to use the loo. While this is seen as some sort of Victorian history it's a fact that the bathroom is a relatively new addition to the British home. In years before this it was not considered unusual in any sense for many people to go to the toilet at the same time and, until diseases became associated with effluence, the bathroom and toilet were deemed totally unnecessary. The BBC have an interesting take on bathrooms in their YouTube video, History of the Home
Other than our demand for greater cleanliness and warmer ablutions, cost is a great decider on the type of bathroom we have. The bathroom is (usually ( a small room but with a great deal of expense associated with it. The fixtures themselves can cost a fortune while the pluming materials and labour involved in getting them all working can be very expensive indeed. This is why many of our users turn to DIY when it comes to replacing or introducing a new bathroom.
With an absolutely vast range of bathroom equipment such as taps, showers, power showers, basins, pedestals, baths, bidets, towel rails, bathroom radiators, bathroom cabinets and heaters it is sometimes impossible to choose how much to put in this often tiny room and does one put function above style or is décor all that matters.
Bathrooms really are about personal choice but we hope the following pages help!