This page includes links to all of our Carpet and Floor Coverings DIY how to projects which includes advice on laying carpets and underlay, underfloor heating and insulation considerations. Browse through the below list and click on your chosen link to view the project information.
Woven and tufted carpets are the two types of carpet most often used in the UK. Other types of carpet such as Knotted, Needlefelt and Flatweave all play a part in the UKs most popular floor covering. Carpets and rugs can be made in exactly the same way and it is often said that rugs are simply portable carpets.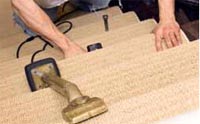 Of the Woven type of carpet there are two types. Axminster and Wilton. Axminster carpet is patterned , Wilton carpet is usually plain but up to 5 colours can be used.
Tufted carpets are the most common type of carpet used today. They are cheaper, and can be made more quickly.
To weave a carpet is to weave cloth. The most common material is wool and this is interwoven with many colours in, sometimes very complex patterns. The process is quite slow, and therefore expensive with the best and most luxurious of woven carpets coming from Persia. Steam powered looms have been used since 1859 where the first one was demonstrated in Kidderminster.
Tufted carpet involves pulling loops of carpet through a pre-woven and stretched backing where it is fixed by (usually) sticking a further backing over the loops at the back of the carpet. The loops at the front can be pulled through to any length required and then either cut or left as loops. Using giant sewing type machines this process can be quite quick while hand drawn designs and complicated patters can be made.