This page includes links to all of our Cladding related DIY how to projects. Browse through the below list and click on your chosen link to view the project information.
The word cladding means to cover or coat on a structure and in the buiding industry this is usually done for one or both of two reasons.
To make the appearance of the building more attractive
To waterproof the outside of the building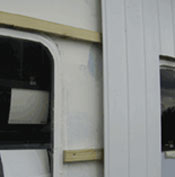 Cladding and cladding systems, panels and materials come in a huge range of sizes, shapes a colours. From architect designed proprietary metal cladding to simple closed board timber cladding every type of cladding comes with a different fixing technique and we have tried to give you some idea of what is required on these pages.
Many times cladding is used because it is cheaper to clad the building than it is to use a more expensive walling type. Blockwork may be clad for example, rather than use bricks.
Usually most cladding is used on Industrial or commercial buildings but houses can be clad in special brick, or stone -slips which stick onto the outside walls.
Cladding quite often requires the wall behind to be battened out. The cladding is then fixed to the battens keeping it clear of the wall behind allowing air to flow in the gap. This acts as a kind of cavity wall keeping the inside of the building dry and warm.