This page includes links to all of our Coving and Cornice DIY how to projects. Browse through the below list and click on your chosen link to view the project information.
Cornice and covings are architectural mouldings that cover the joint between the ceiling and the walls. They range from highly decorative to plain and simple.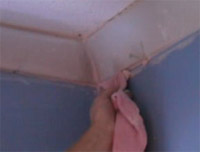 The difference between Cornices and Coving are slight but distinct. Cornice is usually more highly decorated, is a flatter profile and is attached to the ceiling, whereas Coving is usually a plainer concave design, with a symmetrical profile so that it fits equally between the wall and the ceiling. Coving is usually attached to the wall, although if using coving adhesive it can be glued to the ceiling and the wall.
Some cornice and coving was made from carved wood in older houses although this is relatively rare, and is more usually made of plaster. Traditional plaster cornice and coving can be made from carved or cast plaster often reinforced with fibres to make is stronger, this is obviously heavier than more modern lightweight materials which can be used, such as expanded polystyrene.
Historic houses usually have plaster mouldings and often incorporate repeat patterns of vegetation, plants and fruits or traditional architectural designs like Greek Key or Roman details such as swags and garlands.
Cornice lighting can be really effective where your ceiling is good condition. Some Modern coving and cornice designs incorporate a gap between the wall and the ceiling so that they can be used as uplighters by mounting strip lights behind the mouldings.
When you are buying Cornice and coving consider the ages and style of your house to make sure the design is in-keeping with the age of your property. Also bear in mind that bigger rooms can take bigger and more ornate mouldings where smaller rooms need planer and smaller mouldings so they do not appear out of place. Make sure you buy enough to allow for all the joints and corners you will need to cut.
Cornice and coving can be bought from DIY sheds all around the UK but there are also many independent cornice and coving suppliers, including traditional craftsmen who deal with historical designs and can repair, refurbish and replace damaged architectural mouldings by taking casts of the original. If you need cornice repair it may be better to get a specialist company to do this for you. If you are starting from scratch you can get cornice kits to help you.
Fitting cornice and coving is relatively simple and most Home Improvers can do the job easily, although care must be taken when coming to the corner. Coving mitres (or angled joints) can be tricky to get right but you can purchase a specialist coving mitre tool to make the job easier. They are usually supplied with a coving template which allows you to make accurate calculations when cutting joints.