Advice from DIY Doctor on how to avoid cowboy builders and rogue tradesmen before you are stung, or worse, they leave your house in ruins. Having been in the building trade for over 30 years we know what can go wrong and what you can do to ensure that it doesn't happen to you and your home. Here are a series of projects that all the advice that you need to work with tradesmen successfully and ensure that they are doing the best possible job for you.
If you are on your guard and follow a few simple guidelines there is no need to be caught out by cowboy builders, rogue tradesmen, or conmen. Even the very best tradesmen have bad days and things do go wrong, so here are some great tips to reduce the chance of it happening to you in your home, and how you can ensure that they understand exactly what they should be doing to get the job done to your satisfaction.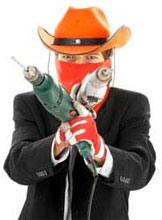 How to Get the Best from Your Builder
Avoiding cowboy builders seems to be the nation's favourite occupation at the moment. There are TV shows called Cowboy Builders and Rogue Traders where people like Melinda Messenger run round the county trying to catch a small time thief (for they are nothing else).
These shows however do nothing whatever to solve the problem they are sensationalizing. They address issues too late, tell the public how bad Mr Roy Rogers has been but fail to go anywhere near the salient points at all.
If the correct procedures, given to you entirely free by DIY Doctor, are adopted, our building contract read, our advice followed and tradesmen sought from the correct places, we guarantee you need not entertain even the thought of a cowboy on your premises.
We have been building houses for 30 years. We know the tricks!
The initiative we have put together allows you to carefully select your builder. We tell you what questions to ask him and what answers to expect. We give you a building contract to go through with him page by page to ensure you both know exactly what to expect from each other. We help you with your payment and banking arrangements. We help you check the price of your job is correct and all quotes are realistic. We save you from the dreaded extras. We do everything except build the job for you.
Both you and your builder do want to achieve the same thing, although at times it might not seem like it. You both want to get a good job done, quickly and efficiently. He wants to move on the to next job on time, with your blessing and a glowing reference, just as much as you want you house back so that you can get on with living in the new space that he has created.
This is a business relationship and you need to ensure that it is one, even though you are at home. You have to manage him and he needs to work with you. This means that he must have clear and timely instructions about what you expect. You need to give him feedback about how things are going, before anything gets out of hand. He must give you warning about what he needs in good time and help you to understand what is happening to your home.
5 Steps to Avoiding Cowboy Builders:
These are the steps that you need to follow to avoid the cowboys and unearth a professional that you will be able to work with through the good times and bad (because there will be days that you will be fed up with the whole building process):
Find a good tradesman to start with: This isn't easy, but you can increase your chances by using tradesmen that have been vetted and checked by organisations that do day in and day out. We think that Checkatrade are the best in the business at doing this, as they go further than anyone to ensure that the tradesmen that they recommend are genuine professionals. Find a tradesman in your area now: www.diydoctor.org.uk/find-tradesmen/
Check their credentials: This is your home and probably the most expensive thing that you will ever buy. Treat it as such; you should make the effort to check out anyone that comes and works in your home. Check they have insurance, taken and follow up references, ensure that they have the right qualifications and are professional.
Check the Quotation: Make sure that you check the quotation by getting several. The government recommends that at least 3 are needed to give you a good understanding of the true cost of the job. You can always use Price Doctor to check the quotes and understand a little more about what each builder is charging for: www.diydoctor.org.uk/price-doctor/
Use a contract: We offer a free contract which will only take an hour or so to fill in and make sure that you are both protected. Cowboys don't sign contracts (and this includes homeowners) as they have no intention of honouring them.
Use Payment Protection: This is a seriously effective way of making sure that you are not working with a Cowboy; the homeowner doesn't pay the tradesman directly but into a secure account keeping it safe until the work is done. The tradesman knows it there, and crucially, knows that he will be paid in full once he done what he promised. This really is a win-win for reputable tradesmen and scrupulous homeowners.
Take a look at our references if you are wondering whether you can trust DIY Doctor. We are members of the National Home Improvement Council. We have been trading for 15 years offering free help and advice for all home improvers; we've survived the Dot-Com boom and bust, and the financial crisis - not too bad for a bunch of tradesmen clicking around the web! Click through to take a look at what we have to offer....Why not, it doesn't cost anything.