Advice from DIY Doctor on how to avoid cowboy builders and rogue tradesmen before they take your hard-earned money and leave your house in ruins.
Cowboy Builders, rogue tradesmen, conmen the lot!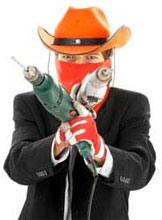 Avoiding cowboy builders seems to be the nation's favourite occupation at the moment. There are TV shows called Cowboy Builders and Rogue Traders where people like Melinda Messenger run round the county trying to catch a small time thief (for they are nothing else).
These shows however do nothing whatever to solve the problem they are sensationalizing. They address issues too late, tell the public how bad Mr Roy Rogers has been but fail to go anywhere near the salient points at all.
If the correct procedures, given to you entirely free by DIY Doctor, are adopted. Our building contract read, our advice followed and tradesmen sought from the correct places, we guarantee you need not entertain even the thought of a cowboy on your premises.
We have been building houses for 30 years. We know the tricks !
The initiative we have put together allows you to carefully select your builder. We tell you what questions to ask him and what answers to expect. We give you a building contract to go through with him page by page to ensure you both know exactly what to expect from each other. We help you with your payment and banking arrangements. We help you check the price of your job is correct and all quotes are realistic. We save you from the dreaded extras. We do everything except build the job for you.
Take a look at our references if you are wondering whether you can trust DIY Doctor. We are members of the National Home Improvement Council and the Trustmark Find a Tradesman service. We have been trading for 15 years offering free help and advice for all home improvers. Click through to take a look at what we have to offer…..Why not, it doesn't cost anything.