This page includes links to all of our Cupboards and Wardrobes DIY how to projects. Browse through the below list and click on your chosen link to view the project information.
Cupboards and wardrobes are essential for every home and in this section we cover all aspects on building, fixing and adjusting your cupboard or wardrobe. Whether your project is a kitchen cupboard, a fitted wardrobe or you're lucky enough to be planning a walk-in wardrobe your can find all the information you need here.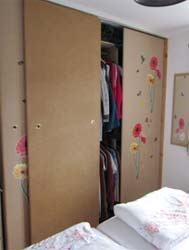 It is very easy to buy cupboards and wardrobes these days either ready made or even flat packed. This is often a cheap, quick and easy option but we think that there are many benefits to getting custom made cupboards, cabinets or wardrobes – whether you build them yourself of you get a tradesman in to assist you.
Benefits of custom made cupboards, cabinets and wardrobes:
There are numerous benefits, but here are the main reasons that you should consider getting your cupboards tailor made. And when we say tailor made, this could, of course, be by yourself as in this section there is lots of information about how to tackle the job.
Made to measure: If you building them yourself, or get a carpenter to build them they will be tailor made to fit the space in which you need to put them. This can take up less space in a small home or make the most of odd sized nocks and crannies. If the floor plan in your kitchen is unconventional then you might have to resort to custom made cupboards and units to get them to fit.
The personal touch: By building to a custom design and using the materials that you choose to you can make your cupboards and cabinets very personal. You will have complete control over the materials, the style and right down to the very last fitting and all the finishing. If there is nothing in the stock selection of pre-made cupboards that goes with your home, you can build exactly what you want.
Built Quality: Even if you are doing it yourself and you're not 100% proficient you do have complete control over the quality – you might take a little longer, but you can be satisfied that what you have built is going to last. If you get a joiner or carpenter to help you out, you can dictate the quality and determine the materials that they use too.
Buy Local: If you get yourself custom made wardrobes, it is likely that you will be sourcing your materials and skills locally which will be helping out the local economy. It is better for the environment too.
Flexibility: The extra flexibility that you get from building your own to getting cupboards made to measure can be a real help if you are trying to achieve a particular look. If other projects over run their budgets, you can cut back and make savings.
Having enough storage is very important particularly when it comes to selling your property. For more information about how you can prepare your home for rent or sale have a look at our property section.
Now you know the benefits of having bespoke or custom made cupboards tailor made for your home, it is now time to see if you can have a go at building them yourself. There is plenty of information about how to go about all aspects of fitting and repairing cupboards, cabinets and wardrobes.