This page includes links to all of our Curtains and Wall Decorations DIY how to projects. Browse through the below list and click on your chosen link to view the project information.
In this section we help you with DIY tasks such as fitting curtains, measuring for curtains, and fixing curtain poles in your home. We also look at the way in which curtains can add to the design and style of your room with the choice of materials and wall decorations.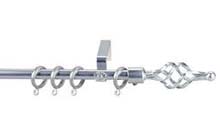 Curtain poles can be found in materials such as metal, plastic and various types of wood. They can be thick or thin, and come in many different finishes, from paint to lacquer, chrome to gilt, to suit your style choices.
Measuring curtains is explained further in the section and curtain sizes are a personal preference when it comes to choosing whether you have windowsill length or floor length curtains, or even something in between.
As far as curtain fabric goes, some people prefer to have curtains that are sheer and allow some light through them while still giving a degree of privacy, but thicker curtains can help with insulation. Many people like to fit black-out curtains or blinds to bedroom windows to ensure that their bedroom is properly dark.
Curtains can be co-ordinated to match wall decorations or you can mix and match wall coverings and curtains, say one plain the other patterned, or if you are bold you can chose to have different patterns on your walls to your fabrics and soft furnishings. Wall decorations can include wallpaper, paint or panelling.
Fitting curtain poles and curtain rails is a Do It Yourself job that you can easily master with a few basic tools. What is most important is that you use the correct fitting for the wall surface you are fixing to, and that if you are using screws they are of a sufficient size and length to support the weight of the curtain pole and the curtains.
With curtain poles you have a choice of tab top or pleated curtains of various designs, where curtain hooks are used they will attach to curtain rings, and on curtain rails the curtains are attached by curtain hooks to small rings already attached to the rails.
On some wall surfaces it is better to fix a batten to the wall and paint it to fade into the wall decorations to give you a secure fixing for your curtain pole, especially where your pole is spanning a wide window or patio doors and the curtain pole is carrying a lot of weight.
Where less privacy is required you may put up a curtain rod, otherwise known as a café rod. These are traditionally fitted about two-thirds of the way up the window with sheer or net curtains threaded onto them.