This page includes links to DIY advice tutorials on filling holes and cracks. These how to articles cover general maintenance projects such as fixing holes around the home as well as more specific jobs such as repairing cracks in paths and concrete. Browse through the below list and click on your chosen link to view the project information.
In the lifetime of a house it is surprising how many holes can develop of even just appear!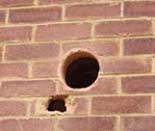 Holes in brickwork, plaster and doors are very common. Holes drilled to put shelves up that are no longer required. Hole made by picture hooks are the bane of a new owner coming into a house.
Holes in kitchen units made to put appliance pipes and cable through. Holes in the ceiling plasterboard to get TV cables into another room. Holes in walls, ceilings, floors. The good news is they can all be filled.
The following pages show you easy ways to make good walls, floors and ceilings. We teach you how to repair doors, repoint brickwork, patch plaster, replace floorboards and mend holes in pretty much everything in the home one needs to drill through.
Using a variety of fillers, sealants, timber plugs, dowels, plasterboard off cuts and shhet timber of all kinds it is possible to effect a repair in almost anything. Just a bit of time and patience is required.
Externally, mending holes in cement render, brickwork, blockwork and stonework are covered as is repairing a fence panel.
Holes in properties can lead to water entering. This can lead to damp and our many pages on damp proofing of all kinds will help keep your property in good condition.