This page includes links to all of our Fireplace, Flue and Chimney DIY how to projects with advice on everything from cleaning and fixing flues to installing woodburners, gel fires and which fire retardant paints work best. Please browse through the list below and click on your chosen link to view the project information or use the search box above if you have a more specific problem to solve.
In this section we deal with the most popular chimney and fireplace-related questions asked of DIY Doctor over recent years.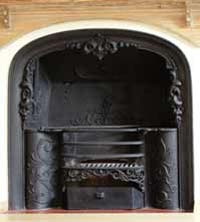 How to open up and old fireplace or close a fireplace that is no longer used. Both are dealt with in these pages.
Installing a wood burner and wood burning stove is covered in detail and the rules and regulations regarding the installation of chimney flues, flue liners and chimney vents are explained.
Insulating chimney stacks can save a great deal of money so we take a look at how to do this as well as installing or capping a chimney pot.
We look at fireplace restoration and how to paint a fireplace with fie-proof paint. Installing a fireproof hearth to a coal fire is explained and how to measure carpets around a fireplace hearth is also dealt with.
Gell fires are explained as well as ventilating fireplaces that are closed or not used.
Many people wanted to know how the back of a fireplace can be rendered using lime mortar (which dries out very slowly, making it more flexible and less likely to crack) so we have explained ths process. Also shown is how to use fire cement and fire rope for making a fireproof joint in flues and liners.
We show you how to convert a fireplace into a cooker housing and how to identify and remedy damp in a fireplace and chimney.
Removing a chimney breast from a downstairs room is a tricky job as the upstairs section of the chimney stack need to be supprted. Gallows brackets are usually used for this, but what are they? It is often far easier to start on the roof, remove the chimney pots and the chimney brickwork and lead flashing or haunching, then remove the stack through the loft, upstairs floor and down to the fireplace. The roof tiles can the be replaced by looking in our roofing section.