This page includes links to all of our Scaffold and Ladders DIY how to projects. Browse through the below list and click on your chosen link to view the project information.
The National Access an Scaffolding Confederation does scaffold and access training if you are biting off more than you can chew with regard to accessing a particularly difficult area of work at height.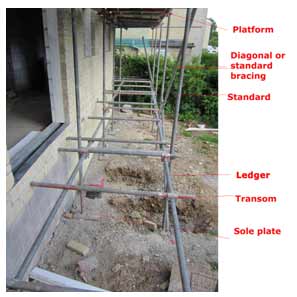 Tube and fitting scaffolds are great pieces of engineering on their own. Able to carry great weights, provide access to otherwise unreachable parts of the walls and roof and with today's standards of health and safety, are extremely safe also. The really dangerous part is erecting and striking scaffold, especially striking it!
Scaffold is placed on foot plates which spread the load of the tube over a larger area, this stops it sinking into the ground. In soft ground the footplate may well be placed on a further timber or steel plate to spread the load further.
Upright poles, or standards, are placed in position first. These are placed in bays which divide the length of the total scaffolding into equal parts. Next the legders, or horizontal bars are positioned and fixed with right angle couplers. Swivel couplers are used to add diagonal bracing where required and when two tubes are joined together this is done with sleeve couplers. The short bars which fit at right angles to the inner and outer frame are called transoms. Through ties are placed through windows or doorways to tie an independent scaffold to the building for safety.
Other types of scaffold include putlog scaffolding where the transom bars fit directly into the masonry of the property and scaffold towers which are easy to erect and allow quick access to an area where a full scaffold is not required.
Scaffold planks form the platforms walkways and toe boards stop bricks and roof tiles being kicked over the side. Guard rails are positioned to prevent falls.
We have pages on ladder safety, how to erect scaffold towers and how to stay safe when working at height.