This page includes links to all of our Timber and Timber Repair DIY how to projects. Browse through the below list and click on your chosen link to view the project information.
Repairing timber can be done in a number of ways. The most common of these for many years, and the method still preferred by carpenters and joiners is to scarf a joint.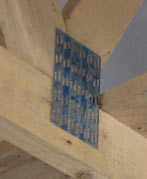 Scarf joints are also used in metalwork and preferred to other joints which join shorter lengths of timber to make a longer one, because the joint is less visible. This is why scarf joints are predominantly used to repair timber as lengths of damaged timber can be cut out and new timber "scarfed" in. To make sure a timber scarfed joint is as strong as possible, fish plates can be fixed either side. The fish plate is shown in the image.
In its simplest form a scarfed joint is a diagonal cut across both timbers which are then glued or screwed together. A diagonal cut is used as this gives the maximum surface area for gluing. The angle the joint s cut is usually one which gives a glued surface at 4 times the width ofthe timberThis is not very strong however and could not be used for floor joists, ceiling rafters or roof trusses. In these situations it is necessary to do one of two things.
The first is to cut a nibbed scarf joint which is similar to a half lap joint (you may want to visit our timber joints section) and the second is to introduce a resin bond into the joint. These methods are explained in the following pages. We also show you how to use a belt sander for tiding up joints, how to use a biscuit jointer, make knock down joints, mortice and tennon joints, mitre joints, how to use a circular saw, how to level floor joists, how to replace damaged timber joists and flooring and we explain the reasons for constructing a hollow timber floor. Table saws are explained as is how to use a router, we show you how to use an electric planer and thicknesser and how to renovate roof joists and rafters.
There are 5 pages on different types of timber joint and we talk you through the different types of softwood and hardwood which are available. We chat about timber framed houses and in general cover pretty much everything to do with carpentry and joinery. We like to keep up with what's happening at the timber framers guild also to see if there are innovations in the timber framing world.