Installing an Acrylic Splashback is an effective and easy way to improve or update the look of your kitchen without too much work.
Acrylic sheets come in many styles, thicknesses,colours and finishes. We recommend a minimum thickeness of 6mm for use as a splashback.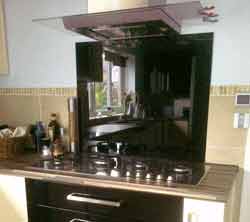 These splashbacks can be placed in an area behind your cooker and/or sink.
To fit an acrylic splashback first measure the width and height of the space you want to fill with your splashback. If you have a free standing stove you will probably want your splashback to continue below the work surface height at the rear of your stove to give a clean visual finish to your splashback.
This acrylic panel can be fixed into position by either screwing (if you are concerned about fixings being visible), adhesive pads or wall panel adhesives such as the correct Gripfill, No Nails etc or equivalent product.
See our cutting and drilling acrylic and perspex project for information on fitting.
If using the adhesive method of installation then make sure your pads or beads of adhesive are not more than 300mm apart going around the perimeter of your panel and across the centre of your panel before fixing in place. Always make sure you leave a gap between the panel and work surface no more than 3mm for sealing at a later stage with silicone sealant. This can be calculated into the measuring up stage for the splashback.
If you are fitting an Acrylic splashback behind your stove or hob it is always advisable to check with the manufacturer what the required distance should be for an acrylic splashback in relation to gas jets or electric heating elements.
As always with machinery that creates dust, debris and has sharp components DIY Doctor recommends the use of gloves, dust masks and eye protection.