Acrylic (sometimes called plastic) baths are the most versatile of all baths and can be made into pretty much any shape one chooses. Acrylic baths are warm to the touch, keep the water temperature longer than other makes of bath, are lightweight and easily transported, can be fitted easily, have a huge range of colour options, are very hardwearing, have a great resistance to water staining, are easy to clean and have a great range of places to fit taps. The tap holes are sometimes pre drilled for you or you can buy acrylic baths with no tap holes allowing you to drill your own in a place to suit your bathroom.
Acrylic baths are moulded from one single sheet of acrylic which is usually 4, 5 or 8mm thick. This sheet is then reinforced with glass reinforced plastic which is sprayed on. Obviously the thicker the acrylic sheet, the less reinforcement is required.
The underside of the bath is usually then stuck, or fixed onto baseboard, usually chipboard, to give it the strength required to fix feet. Sometimes the baseboard is cast in with the bath and is covered with fibreglass. The bath is also fitted with a wooden frame to give it additional rigidity and strength and this frame is called a cradle. The cradle allows a bath panel to be fitted more easily.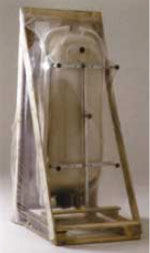 Acrylic baths come with adjustable feet usually fitted to a galvanised frame and threaded to give a high degree of adjustment. It is very important a bath is fitted level. Brackets are sometimes fitted to the cradle which allow the bath to be fitted to the wall. Sometimes the plaster has to be cut back a little to allow the brackets to be set back and the edge of the bath to finish flush with the wall.
Acrylic baths should always be filled with water before the wall is tiled down to them as they are the most flexible type of bath and, if not fixed 100% securely, can move when bathing takes place. This can be avoided by filling with water to see how much movement takes place.
Many thanks to the Bathroom Manufacturers Association for information on this project.