Fitting and fixing Venetian blinds, Roman blinds and Vertical blinds all follow the same routine (pretty much). The blinds themselves or their mechanisms are housed in a box called a blind carriage. All blinds are fairly easy to fit but require accurate measurement at the start to make sure you have the correct size of blind and it is positioned in the correct place in or over your window.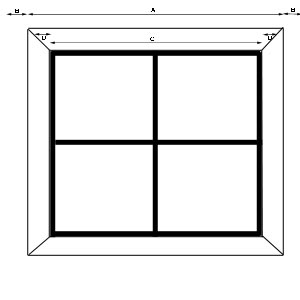 Blinds can be fitted in two ways. Either on the face of the wall above your window opening, called "face fixing" or up onto the soffit or head of your window opening. This is called a recess or a head fitting.
For a face fitting, using the diagram, the centre of your blind carriage should be in the centre of your window opening. This means that any overhang, demonstrated by the figures B should be the same.
For a recess fixing the gap either side of your blind (figures D) should be the same.
To guarantee this in both cases it is easy to measure the size of the window opening and mark the centre with a pencil. Then measure the length of the blind carriage and place a mark on that.
When fitted the two marks should line up meaning you have the centre of the blind in the centre of the window.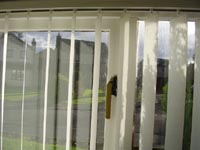 When you are sure about the position of your blind carriage you must fit the brackets to hold the carriage in position. There are different types of bracket for different makes of blind but usually the bracket is fixed to the surface using a normal fixing technique such as drilling wall plugs and screws (See our related projects, left, for many different fixing techniques). Again, the brackets (usually two or three) should be fixed centrally to distribute the weight of the blind evenly between them.
In the case on Venetian blinds, the slats usually come attached to the carriage and it is simply a question of clipping up the carriage into the brackets. With Roman blinds and Vertical blinds the slats or vanes are usually fitted/fixed to the carriage once it is in position. Always follow the manufacturers instructions.
To watch several videos on how to fit various types of blind in the home, go to our video section on blinds.