As Autumn arrives its a good idea to finish all of the outside jobs before the cold weather sets in. All external decorating should be finished and remedial work using sand and cement mortar should be done as frost can affect this sort of work badly if the temperatures are too low when work is being done. On a building site for example, sand and cement work is not allowed to commence unless the temperature is at least 3 degrees and rising.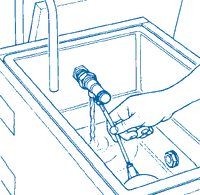 Preparing for the cold weather should be done now and your boiler, or other heating should be serviced ( By a competent, registered person). Do not wait for cold weather to find out that something is not working properly. If you have a feed and expansion tank in the loft, make sure its working well by moving the float arm up and down a couple of times to make sure the valve lets in, and shuts off, the water. While you are in the loft, make sure you have at least 270mm of loft insulation and it is laid away from the roof eaves to let in air for loft ventilation. Check pipework in the loft is insulated and all stopcocks (this applys to the whole house) are working. Check all door and window draughtproofing, including the letter-box. Adding a threshold strip to external doors is quick and easy way to stop draughts.
In older houses with solid walls, the appearance of damp in the colder months is common. This is usually caused by condensation. Condensation can be reduced greatly by making sure rooms are well ventilated and extractor fans are installed. For a long term remedy it is as well to look to warming up the walls by dry lining them. This involves battening the walls fitting insulation between the battens then fixing and decorating plasterboard. The battening can be done using 19 x 32mm battens with their 19mm thick polystyrene sheeting in between. A polythene vapour barrier is required on top of the battens before 9.5mm plasterboard is fixed to the wall. Instead of the polythene barrier you can fix Vapourshield plasterboard which has silver foil on the back.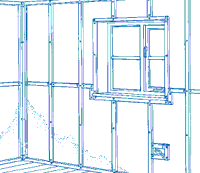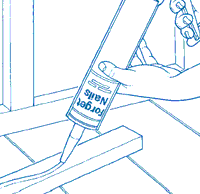 Start by stripping off all the old wall coverings and remove skirting boards carefully as they may be re-used. If mould growth is present treat the wall with Fungicidal wash killing off spores in the plaster. Follow the instructions on the container. Fix battening at 400mm centres after fixing all round the perimeter of the wall/room. Measure carefully as the long vertical joints of the plasterboard must finish in the centre of a batten. Fix a horizontal batten if you intend to have a Dado or picture rail. Make sure the surface of the battens are all aligned by packing out behind them where necessary. The battens should be secured with plugs and screws or a strong adhesive. Click through to our tool store for all products mentioned on this page.
All sockets and switches will need to be disconnected from the supply and moved forwards. Battens need to be placed round these as shown in the diagram, left. Cut the polythene to fit very tightly in between each section. There should be no fixings required and a tight, friction fit is all that is required. There should be absolutely no gaps whatsoever. Staple the polythene vapour barrier to the battens as seen in the diagram, left, and then nail or screw the plasterboard to the battens. If you have never done this before, go to the project on partition walls. Socket and light switch face plates can be put on and skirtings etc replaced. Please remember this idea is a solution for walls affected by condensation only. If the wall is wet as a result of water ingress from outside you should get to the cause first. This may be defective pointing, cracked or split render, broken bricks or simply old bricks which have become porous. See any of our projects on damp walls for more information on how to deal with wet walls.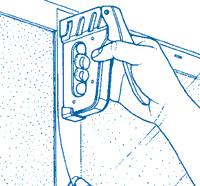 As a final check, make sure there is no soil or other debris build up against any house walls, Remove leaves and other blockages from drains and gullies and clean and repair leaking gutters and downpipes. If you have an external tap, make sure both the pipes and tap itself is insulated to prevent freezing.
Finally to prepare your home for Winter, clean up all patios and paths before they get slippery and make sure all exterior lighting is working.