Boxing in or "housing" a central heating boiler can be done using kitchen units to match your existing kitchen. Boilers can be unsightly and hidden away, the kitchen can look a great deal better. It is necessary however to make sure of a couple of things when boxing in a boiler:
The boiler itself can be opened fully for servicing and repairs
There is at least 50mm of air gap all round the boiler and the boxing allows plenty of ventilation to allow a fresh air flow all round the boiler.
Both of the above can be achieved by using kitchen units in a great many cases.
Firstly measure the boiler and choose a unit which will fit round and meet the conditions described above. Put this unit together and place it somewhere near the boiler to see what adaptations you need to make to get it over the boiler. There will be cuts round pipes and possibly timers etc. There will also be cut outs required to allow for the air to circulate. As you can see from the images below we have cut the top half of the top of the unit away and 90mm of the bottom of the unit away. The right hand side of the unit has been fixed to battens on the wall to keep the unit away from the pipes. The unit has been kept off the back wall to allow for an air flow at the front of the boiler. This also has been done by fixing battens to the wall. The back has been removed from the unit. You will, almost always need a jigsaw to cut the awkward shapes. There is one in our tool store below.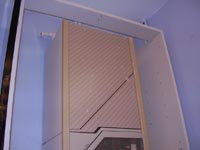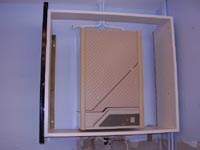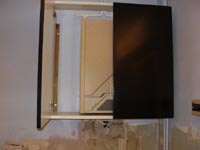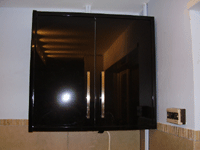 The units used here have additional side panels which can be used to cover gaps between the unit and the wall. These gaps can also be covered with lengths of architrave or other timber moldings. As the back will almost certainly need to be removed, the unit can be fitted to the wall using angle brackets. These can be bought from our tool store by clicking on them below. Doors are fitted as usual and the hinges adjusted. See our related projects list on the left of the page and learn how to fix to masonry and plasterboard, adjust kitchen cupboard door hinges and many other things you will need to know to do this job properly.