Building Regulations: Approved Document C - Site preparation and resistance to moisture
C1 Preparation of Site
C2 Dangerous and offensive substances
C3 Subsoil drainage
C4 Resistance to weather and ground moisture
This section of the building regulations covers the preparation of a building site and the treatment and clearance of unsuitable material. The materials resistance to contaminants and sub-soil drainage. Also included is information on the resistance of moisture to floors, walls and roofs, with examples of damp proofing and ventilation provisions.
Examples:
(1) The ground to be covered by the building shall be reasonably free from any material that might damage the building or affect its stability, including vegetable matter, topsoil and pre-existing foundations.
(2) Reasonable precautions shall be taken to avoid danger to health and safety caused by contaminants on or in the ground covered, or to be covered by the building and any land associated with the building.
(3) Adequate sub-soil drainage shall be provided if it is needed to avoid-

(a) the passage of ground moisture to the interior of the building;
(b) damage to the building, including damage through the transport of water-borne contaminants to the foundations of the building.
(4) For the purpose of this requirement, contaminant means any substance which is or may become harmful to persons or buildings including substances, which are corrosive, explosive, flammable, radioactive or toxic.
Click on the book in the image below for an easy summary of the building regulations. This book is a must for those involved with any type of structural alteration. Even removing a wall in your home can require building regulation approval and with all home information available in Home Information Packs selling your home can be difficult if you do not have legal approval, where necessary, for work done on your house.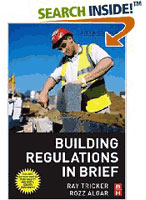 Please be sure to check on the Government Planning Portal website for updates to any Building Regulations before commencing work.