Building in a lintel is an important job to get right after knocking out an opening in a wall. If the wall the lintel is going into is a load bearing wall you will need to check up on the Building Regulations as this will count as a structural alteration. Click on any of the blue links, or look at our related projects to the left of this page for more help with your project.
Once you have formed the opening through the wall, a lintel of the correct size (See building regulations) needs to sit on solid bearings of, at least 150mm either side of the proposed opening.
Once this bearing is established the lintel can be built in with bricks or blocks paying normal regard to the procedure for laying them. If there are gaps which mortar can not be forced into, further support can be obtained by jamming layers of slate into these cracks. Slate has a very high compressive strength and will not crush.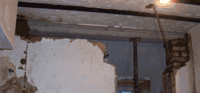 Our project on forming openings in walls shows how to take the weight of the lintel with Acrow props until it is built in properly and when the mortar has gone hard the acrows can be removed.
The image above shows the acrow in place while the support was built. Once the support has gone hard the support can be removed and the rest of the opening cut away.