If you're getting new carpet, you can make it feel more comfortable and last much longer by fitting underlay first.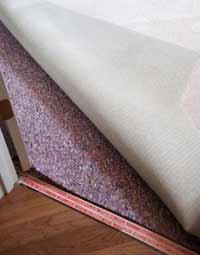 Different Types of Carpet Underlay
Sponge Rubber Underlay
Sponge rubber is the most commonly-used underlay. Synthetic rubber is made into a waffle-like texture with air pockets to form a flexible and durable material. There are usually three to five grades of this type of underlay available, from lightweight to luxury, so you can choose whichever is most suitable for your room and budget.
Crumb Rubber Underlay
Crumb rubber underlay is very hard-wearing, and great for the environment as it is made from recycled car tyres. It's not as comfortable to walk on as sponge rubber, but it's perfect for areas with high levels of foot-traffic such as hallways, stairs and landings. It's also good to areas where heavy furniture is used, as it recovers completely from indentations caused by heavy items.
PU Foam Underlay
Made from recycled furniture foam, this underlay is another good environmental choice. PU Foam is much lighter than rubber underlays, and acts as a good insulation on cold floors. It also offers good sound insulation, so is good for use in upstairs rooms and flats. A range of thicknesses are available to suit different rooms and budgets.
Wool Felt Underlay
Wool felt is a top underlay choice, and is often used in commercial buildings. Made completely from recycled fibres including animal hair and jute, felt has brilliant thermal and acoustic insulation qualities, and is so durable that it often outlives the carpet! If you take up an old carpet and find a wool underlay, don't get rid of it until you're sure it can't be reused.
Combination Underlay
Combination underlays are available, which usually consist of a layer of crumb rubber and a layer of wool felt. A combination underlay combines the good properties of both materials.
Underfloor Heating
If you have underfloor heating, you will need to use a special underlay with it. These specialist products allow air to circulate, and have a low tog rating so that the heat can penetrate through.
Preparing the Floor for Carpet Underlay
Make sure the floor is completely clean before you start, and check to see that there are no nails or staples sticking up if the room was previously carpeted. Sweep and vacuum to get rid of dust and bits that could cause lumps. If possible, remove the doors as this will make your job easier.
Our project on Laying Carpet has more information about preparation and fitting carpet grippers.
If you are laying underlay on wooden floorboards, a layer called an interliner should be used between the underlay and the floor. This is to stop up-draft problems, which include not only drafts but also dirt and staining.
Laying the Carpet Underlay
You will need a utility knife, underlay tape, and a staple gun or spray adhesive. Lay out the strips of underlay so that they overlap the carpet grippers at the edges, and the strips butt up against each other closely without overlapping. Lay the strips in the opposite direction to the floorboards. If you are using rubber underlay, it should be face-down so the rubber is against the floor and the backing faces up. Foam underlay should also be face-down, with the coloured film on the floor and the backing face up.
Cut the underlay into doorways and any other recesses. If need be you can add an extra piece, taping it into place, but it's always best to cut out shapes rather than adding on if you can.
Use the staple gun to staple the underlay along the edges inside the gripper. Make sure each strip of underlay is straight as you go, with no gaps between strips. If you are laying on a screed or concrete floor, use a spray adhesive or double-sided tape to hold the underlay in place.
Use underlay or duct tape to tape all the way along the joins between strips. This will stop lines from showing at the joins, and will ensure the underlay stays in place and doesn't ruck up as the carpet is laid. Use a sharp utility knife to trim off the edges of the underlay just inside the carpet gripper.