Fitting a cat flap can seem like a huge job to a novice DIY'er, especially through a PVCu door but if you simply stick to the instructions which always accompany the access cat or dog flap, its really quite a simple operation.

Firstly measure your cat against the door to see how high the cat–flap should be from the floor so that it can easily get out. Measure the distance from the floor to the underside of the cats tummy. Transfer this measurement onto the door which is going have the cat–flap fitted, and, using a small spirit level mark a horizontal line, in light pencil across the door.
To find the centre of the door your should measure the width of the door and divide by two. Mark an "x" on this point on the door as this will be where the centre of the cat flap is. Always remember to measure twice and cut once!
Next, using the template in the instructions, mark the appropriate sized circle on the door using your x as the centre.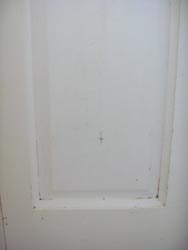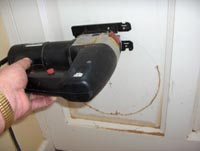 If for any reason you do not have the instructions you will need to dismantle the cat–flap and mark out the opening on paper in order to measure the required hole diameter. Drill a hole slightly larger than the width of your jig–saw blade somewhere near (but inside) the circle you have drawn, and run the jig–saw carefully round the line.
If you have a panelled door, as shown in the instructions below do not cut through the door mullions or vertical rails. Place the cat flap in the centre of one of the panels.
Do not attempt to push the jig–saw to make it cut faster. Let the blade and the motor do the work and you can then just guide the blade around to get a perfect circle.
A word of warning here: Some cats like to nudge themselves up against the door to let their owners know they are waiting to come in. Check the other side of the door before you start to drill and cut!!
When you have cut the hole, use a piece of sand–paper to smooth off the edge of the cut. Don't forget all of these instructions apply to uPVC doors as well as timber doors.
When the hole is cut you can fit the cat flap. There are many different kinds of flap but all are fairly self explanatory from a fitting point of view as, usually, there is only one way they can go together. Sometimes you may need to use a little sealant to make the external joints between door and cat flap water–tight and if the joint between the door panel and mullion has been stretched at all by the jig–saw vibration, it may be as well to make good with some decorators caulk. Both of these can be bought by clicking on the tools below.