Finding and rectifying faults in central heating systems draws a huge number of questions from Diydoctor users, both DIY and heating engineers. We have now sourced what we consider to be a very valuable asset indeed. This book (and its partner Combination Boilers- Fault Finding and Repairs) will be one of the most valuable tools in your bag! For radiator problems please see our project on radiator problems
No matter who you are, albeit an experienced DIY enthusiast or someone with only a passing knowledge of Central Heating systems it is well worth trying to diagnose a fault that might occur in your central heating. Even with few tools and limited experience there are a number of common and simple cures and remedies that are listed in this book. There is comprehensive but easy to understand information about most faults that do occur to central heating and hot water systems. Remember that before you get started it is really important to have a quick read through the safety section.
Included are guides on the following topics:
Domestic Central Heating Domestic Hot Water Boilers
Radiators and Valves
Thermostats
Upgrades and Repairs
Pumps Controls
Combi Boilers
Corrosion
Water Storage
Cisterns
Replacements, Maintenance and Safety
There are over 200 pages and 100 pictures to make the instructions clear easier to follow. They will help you to quickly trace faults in hot water and central heating systems, and make repairs with confidence. It will give you some great maintenance tips with will reduce wear and tear and hopefully stop your system breaking down. The idea is that you will save on unnecessary call out charges and your central heating or hot water system will run more efficiently for longer.
This manual is a 'must have' for anyone who is responsible for a domestic Central Heating and Hot Water System. It is essential reading for student/trainee/apprentice Plumbers and/or Heating Engineers who are studying for an NVQ.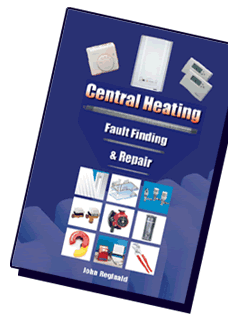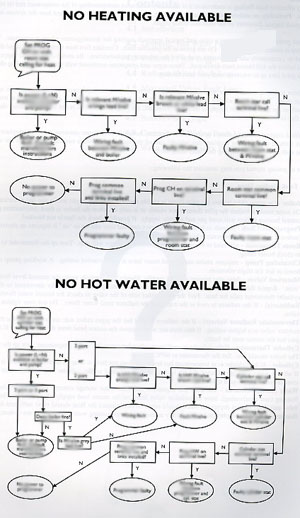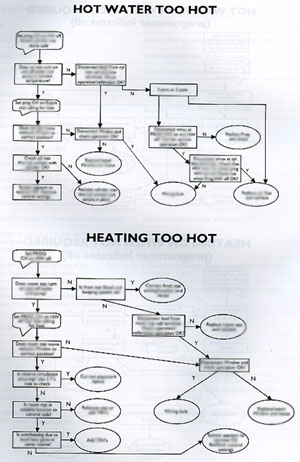 Professional Tradesmen such as Heating Engineers, Plumbers, Gas Installers (Boilers), when called to a breakdown will fault find in a logical and modular fashion. They will consider the differential possible causes of the fault and set about the repairing the fault in a step by step manner. They will plan for the worst and by doing so it rarely happens, and it is does you are prepared. We recommend this easy to follow book that will assist you in your diagnosis of faults in a logical and efficient manner. Keep it hand for those unfortunate times when your heating system in having problems and you need to fault find quickly and effectively. Remember to read the safety section so that you remain sate at all times.

If you are responsible for the domestic Central Heating and Hot Water System in your home, this is an excellent reference guide and will be very useful if a problem does arise. It is really aimed at student/trainee/apprentice Plumbers and/or Heating Engineers studying NVQ qualifications but it is highly accessible and excellent for anyone wishing to understand the operation of boilers and heating systems.
Central Heating Fault Finding and Repair is set out in logical sequence allowing the user to easily find the problem they are suffering with and follow either an easy diagrammatic route to a solution, or a simple logical list of possible reasons and remedies for the fault.
We do not believe there are answers as comprehensive as this available, for this price, anywhere in the UK.
You may also find our Combination Boilers project useful.
Go to our video section on "plumbing and heating trouble shooting" to watch a film on a guide to central heating problems.