Whether you are planning on tiling a wall or floor, a kitchen or a bathroom, you will need to choose from a plethora of styles, sizes and colours of tile. Our guide will help you to choose the type that is right for you.
Wall Tiles
Tile Sizes
When considering tile size you should take the size of the room into consideration. A small shower room will look odd if you choose to use very large tiles in it, and a huge kitchen won't look right tiled with small mosaic tiles.
Kitchens are traditionally tiled with standard 100mm square tiles, but rectangular tiles to resemble brickwork are becoming popular now, as are larger tiles. It depends in part in how much of the kitchen you are going to tile – you might want just a few rows of tiles above the worktop, or you might be planning to tile the whole wall, in which case a larger tile is more appropriate.
When tiling a bathroom, the space in between the toilet, sink and bath or shower needs to be considered. If these items are close together, a smaller tile will look better, allowing the lines to flow better and reducing the need to cut tiles into awkward shapes. If you have a large room, larger tiles mean less grout showing and a sleeker feel to the space.
Shapes & Layouts
A plain square layout can be broken up with a border of feature tiles – thin rectangular or small mosaic tiles of a contrasting colour. Bathrooms often use large rectangular tiles – most often in a portrait position, so that the rows are higher than the width of a column. Smaller rectangular tiles (even down to mosaic size) can be used in a brickwork pattern to great effect.
Colours & Patterns
Colours are always driven by fashions, but if you look around pretty much any colour is available somewhere. When it comes to choosing wall tile colour, there are a number of things to consider. Are you completely redecorating, with new paint or wallpaper, flooring and accessories? In that case you might choose a tile you like and design the rest of the room to fit in with it. Or do you need to choose a colour that fits in with the rest of the room? When it comes to kitchens, you will need to pick a colour that goes well with the units and worktops.
Darker colours will of course shrink a room and make it seem darker, but a highly reflective surface will help to combat this. Bathroom decoration doesn't necessarily follow the same rules as other rooms – it is acceptable for a bathroom to use dark colours as it is generally accepted that the room is small. You don't spend a lot of time there doing different activities, so natural light is not as important as it is in other rooms.
An effective way to combine colours is to choose a plain base colour for the majority of the tiling, but offset it with a decorative or contrasting border. Alternatively, you could select two, three or four colours that go well together, and lay them in a pattern. Mosaic tiles are often sold in sheets that are pre-patterned with a selection of varying tones or shades.
Another option is to have plain tiles intercepted by feature tile inserts or panels – panels made up of a number of tiles which fit together to make up a picture can look particularly effective if you have a large wall to fill.
Textures & Finishes
Modern or rustic, high gloss or matte? There are a number of different finishes to choose from. Ceramic tiles can be made to look like stone, and a nice country style kitchen will look very good with uneven, rustic tiles to match. Bathrooms are more likely to suit a high gloss finish, as it will reflect light to enlarge the room. If you have a large room though and want a warmer feel, choose a matte finish.
Keep in mind who is going to be doing the tiling – if you are planning to do it yourself, then some tiles are much easier to cut and grout than others. Vitrified porcelain tiles are very effective and can look just like stone, but they are impossible to cut without a good wet tile cutter. Rough and rustic tiles look good, but they are much harder to grout (and clean!) than a nice, smooth finish.
Floor Tiles
Tile Sizes
It is generally held that smaller floor tiles will make a room look bigger. If you lay small format tiles on a very large floor, you can find that the lines make your eyes go funny! Larger tiles are generally used in kitchens and conservatories, but bear in mind that a larger tile requires a flat floor. You might think that the floor should be flat anyway, but you'd be surprised at how many floors are uneven, particularly in older buildings.
When it comes to budget, you will probably find that the cheaper tiles are a standard 30cm square. Mosaic tiles can work out very expensive, and unless you are tiling a wet room, would not normally be considered for floors.
Shapes & Layouts
Not so long ago, all floor tiles were square, but there are now a couple of other options. Many ceramic floor tiles have a rectangular option, and certain ranges are available with a selection of sizes and shapes. A combination of square and rectangular tiles can be used together to a very good effect, making the floor look like old-fashioned paving. This is known as the Versailles pattern.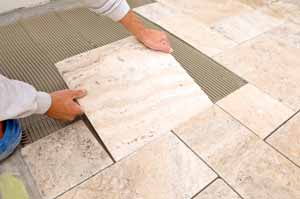 Square tiles don't have to be laid out in a boring straight pattern – you can turn them around for a diagonal pattern, turning the squares into diamonds, or you can combine two different sizes of tile. This is known as a Pinwheel pattern, and it helps to break up the straight lines of the tiles.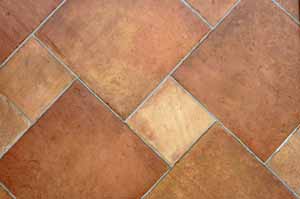 Rectangular tiles can be laid either in a herringbone or brick pattern.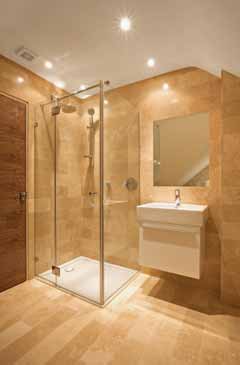 Colours and Patterns
Floor tile colours and patterns are more restricted than wall tiles – generally because too much colour on a floor can be overwhelming. Also, the current fashion is for natural or stone-effect floor tiles, so popular colours tend to be a range of creams, browns and greys.
A classic black and white chequerboard pattern can look very effective on a floor, either straight or turned at a 45 degree angle. Terracotta tiles, glazed or not, look great in conservatories and kitchens.
As with wall tiles, feature panels can be used on floors. You may need to find a specialist supplier to obtain patterned floor tiles, but if you are renovating an old house, an old-fashioned patterned tiled floor can look really good.
Textures
Texture is very important when it comes to floor tiles. You can't possibly lay high-gloss tiles on a floor as they would be dangerously slippery. Make sure you buy tiles that are designed to be laid on a floor rather than a wall – they will be thicker and stronger, and will have at least some degree of texture to avoid slipping.
If you are tiling a wet room or bathroom floor, you'll want to make sure you buy some sort of non-slip tile. Either a textured glaze or dimpled tile surface will help to improve grip. Small mosaic tiles can be suitable too, as the edges of the tiles and the grout joints offer a good level of texture to add grip.
Porcelain tiles are much tougher than other ceramics, and more suited to areas of high foot traffic. They can also be used outside.