Fixing conservatory blinds, or fixing blinds to PVCu or plastic windows is a hugely popular topic on DIY Doctor. We have answered the question so many times on how to fix the brackets for window blinds to double glazed window that it really is time to produce a project containing the answer.
To produce this project we have enlisted the invaluable help of Direct Order Blinds who have come up with the most incredible way of fitting blinds to plastic frames without the need for drilling or screwing the frames. This revolutionary idea is called Perfect Fit Blinds but you can also find all types of blind.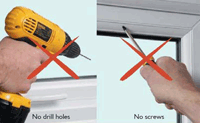 Direct Order Blinds really have made things easy for you. Their system allows you to receive a booklet of free fabric samples to choose exactly the right colour for your windows. As everyone knows, web colours can vary from the real thing so click into the Direct Order Blinds web site, choose the colours you like and have a sample of the real thing sent to you to be sure you are getting what you pay for.
The next potential problem is measuring for your blinds. If an engineer comes out to your home it costs money. Regardless of any "Free Measuring" offers, this engineer has to be paid for and his or her wages are built into the cost of your blinds. At Direct Order Blinds you get well prepared, easy to follow instructions for measuring your windows.
Fitting the blind when it arrives is literally done in minutes. Using an ordinary credit card as a measure you simply slide special brackets (usually 4) into the existing window beads. Your new blind clips straight in and its done. No drilling, no screwing, no sticking it really is that easy.
With Perfect Fit there are no gaps down the side of the blinds. Strings do not get knotted and pleats do not get tangled together leaving the blind at a ridiculous angle to the window cill. As we said at the top, we have been asked hundreds and hundreds of times for "The easiest way to fit window blinds to PVCu or double glazed frames". This project is the answer. Click through to Direct Order Blinds now and make life easy for yourself!
You might like to go to our video section on blinds to watch a video on how to fit pleated blinds and also fitting woven wooden blinds here.