The first part of this project deals with plaster coving. For a versatile method using Polyurethane coving, cornices and mouldings, scroll down to the bottom.
We have kept the content as realistic as possible by actually doing the job. For a comprehensive fitting coving guide you can download as a word document, click here. To view excellent diagram images of cutting coving scroll down.
How to Mitre Cut Coving
The very first rule about coving for the novice, is please buy an extra length to practice on! Angles are peculiar things, as our several hundreds of e-mails on this subject will bear out! The first thing you will need to buy is a coving mitre block. These are made especially for coving and will come in a variety of sizes...We use a 125mm box and as you will see, have placed a batten, securely, in it to accommodate the 85mm coving we were installing. If your coving does not fit snugly into your mitre box, you run the risk of it moving when you saw...This can throw the mitre out and make it very difficult to get a neat job. Take your time and you will be amazed at how easy it is to add a beautiful feature to the room. To see a wide range of covings and other architectural mouldings, click here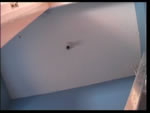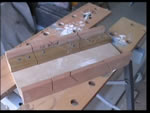 As you can see,these boxes come with a straight or butt joint slot for the saw, and two 45 degree slots for meeting internal and external corners. The slots have numbers on them as you can see. This is to avoid confusion when cutting, and believe me it is easy to get confused!
The box is numbered in the way that if you are facing any wall, the right hand mitre is number 1 if it is an internal angle or number 3 if it is to an external angle and the left hand mitre is number 2 or 4. Do not be put off by any of this. Use your practice piece and all will become clear. Number the walls as described above and shown in these pictures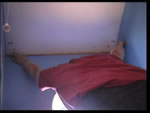 Measure the width of the wall you wish to start on. It is always a good idea to work around all internal corners first otherwise you may find yourself "boxed in".
Slide a length of coving into the box and make the first cut on the 1 line, the coving is cut "face down". Use a fine tooth saw to avoid making the paper ragged on the coving.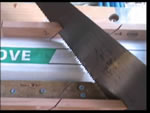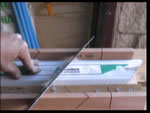 Mark the measurement you have taken on the coving, remembering it will be from the two points furthest away from each other and make cut number 2.
Fixing Coving Using Adhesive
Mix up the adhesive to a thick paste, or use a ready mixed coving adhesive and spread evenly along both edges. Don't be frightened of putting on too much, you will be able to scrape it off easily and a wet cloth will clean the wall. Keep going around the wall using surplus adhesive to fill any joints that do not quite meet and any undulations in the surface of the wall. If you are concerned that a long length of coving will not stay up on the strength of the adhesive alone, tack in some small nails underneath it until the adhesive is hard...The holes can be filled later. Always check for cables and/or pipes before nailing into the wall.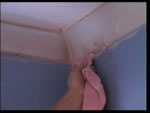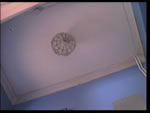 Finding Angles in Your Room
If you are lucky, your rooms will be square, or nearly square. For rooms that have odd shaped corners you can buy an "angle finder" from most good DIY stores and builders merchants. Place this in the corner of the room and find its angle. Divide that angle by 2 and mark this on the mitre box. Cut gently with the saw and you will have the template for making this corner neat as well.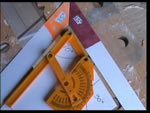 Coving is not hard. It is a question of taking your time and getting things set out as you would like them. Be prepared to sacrifice a length of coving to get the mitres right. It will save you money in the long run.
Comparing Plaster Coving to Orac Polyurethane Coving
| | | |
| --- | --- | --- |
| | Orac Decor | Plaster Mouldings |
| Weight | Lightweight | Very Heavy |
| Strength | Non fragile/Clean cuts | Very fragile/easily broken and chipped |
| Installation | Simple, quick and easy | Complicated, dirty and messy, time-consuming |
| Labour Costs/Skills | Minimum of labour (one person) | Skilled labour necessary, 1-2 people |
| Painting | Only 1 application | 2-3 coats necessary |
| Repairs | Needs no repair wor | "Making Good" required after installation when cracking occurs |
Orac Polyurethane Coving
The ORAC range of products - recently introduced to the UK from Belgium (where it has been successfully made and supplied to more than 50 countries worldwide during the last 25 years), comprises a vast range of decorative features which offer numerous advantages over 'traditional' plaster based products. "I can't believe how quick and easy it was to install , and how fantastic it looks" is the typical reaction from people installing the ORAC Decor and Axxent range of products for the first time.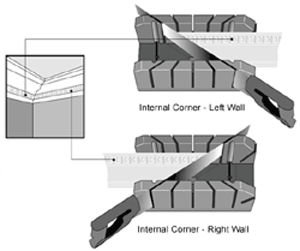 The revolutionary nature of the material and the modern moulding process enables a sharper level of detail to be incorporated in the designs, making it perfect for the home where distinction and elegance is the theme. Weighing just a fraction of the weight of plaster it is remarkably strong and resilient to knocks or damage on site or during installation. Consequently these ornaments are quick and easy to install, (typically in around half the time compared to plaster, without the need for a second person) and with none of the difficulties, mess or wastage, saving the installer time and money.
Additionally there are none of the usual concerns about cracking or shrinkage normally associated with plaster - ORAC ornaments will enhance the look of your home for many years to come.
Pre-primed, ready to paint or stain to the desired finish effect (with only a single coat required), users are realising that without doubt, this is now the new 'traditional' product material to replace plaster mouldings. If you would like a hardcopy of the brochure or a sample of the material, please contact us. (Note that all of the coving and panel styles are also available as a 'flexible' that enables mounting to curved walls/bays or for circular patterns to be created - see images below). For more information on these products, please see the Davuka FAQ page.
Take a look at some of the moulding to see what you can achieve in your home. Click on any of the images to see many more cornices, covings, architraves, skirting piers, columns mouldings and panels. For much more information on fitting coving click on the images on the right.