Mending cracks in concrete paths, patios, drives, walls and floors has long been a problem for both the builder and the DIY enthusiast. New concrete in a crack is completely useless unless the crack can be widened into something which will allow a decent amount of concrete to be placed in it. Its no good trying to fill a 5mm crack with concrete comprised of 10mm aggregate!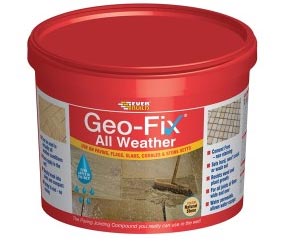 Now however we have found the answer ! A jointing compound suitable for drives, paths and patios which will fill cracks from 5mm wide to 40mm wide and harden to a permanent finish which can even be power washed.
This compound can be bought by clicking on the image and for an even stronger hard wearing crack filler for drives and paths etc, most builders merchants now stock an epoxy resin compound which sets harder than the concrete itself! Epoxy resin pigments can be added if you have something a little more exotic than standard concrete colours.
Why not go to our video section on repairing foundations and watch a film on repairing steps to learn how to repair concrete steps.