One of the most frequent questions on DIY Doctor is how can I get a good fix to ceramic tiles? Whether its fixing a huge, heated towel rail or just a toilet roll holder, it is a difficult problem; but with the huge range of fixings available today, not so difficult to solve. The main problem is the thickness of the tiles and plasterboard combined (together with the fear people have of driling into ceramic tiles and for this see our project called cutting ceramic tiles) but when you can see the problem from the back, as it were, its not so hard. Many people make the mistake of using normal wall plugs in ceramic tiles, these will not do. Normal wall plugs rely on the screw to expand them and they then provide the grip by creating pressure on the inside of the hole. This will not work on plasterboard and ceramic tiles as the board is not strong enough and the tiles are not thick enough to offer much surface area for grip. Lastly screwing into a wall plug in a ceramic tile can easily crack the tile.
The first thing to do is choose the fixing you want to use. Remember a towel rail, even the lightweight plastic kind, is not just fixed to support its weight, the fixings also have to withstand the pull of people tugging towels from the bar or bars and even a toilet roll has people tugging from it. Choose a good solid fixing so you only have to do the job once. The fixings we show here, and below, are suitable for most jobs in the kitchen or bathroom but always read the instructions on the packet first which will also tell you what size hole to drill.

Firstly drill the hole/s. We find the best way to keep the drill exactly where you want it is to push a tile cutter against the ceramic surface and twist. This scores the glaze enough to keep the drill from slipping. Always use a masonry or tile drill of the correct size but if you need to drill a hole larger than 8mm, start with a small hole first, say 5mm, and enlarge. Do not press hard and never have the drill on hammer, just push gently and let the drill do the work.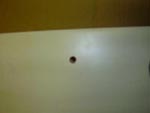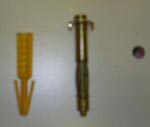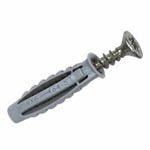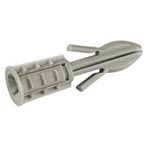 The fixings in the images above can all be bought in the tools section below by clicking on them. The left hand image shows the hole in the tile, the next image shows an extended plasterboard wall plug. The 3rd and 4th image are strong wall plugs for differing thicknesses of plasterboard and the last image is a wall anchor fix which, in our opinion, is the best of all for plasterboard with ceramic tiles on.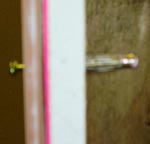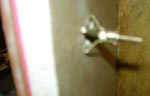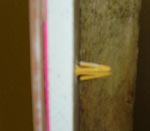 You can see quite clearly from the back how these fixings work and using the wall anchor shows its virtually impossible to pull the fitting off the wall.