Garages - Damp Floors
If you need any help with garage floors or walls, including dampness problems Property Repair Systems staff will give you completely free, no obligation advice on 01626 336180. The information you need may be in the project below. If not, call them.
Property Repair Systems offers you information regarding all types of garage floor and wall repair and coating. This includes a helpline manned by experts. Click on the logo above to find out more.
Garage Floor Basics
Garage floors were NOT laid by the Builder of your property to be used indoors, as part of your inhabited area. Similarly, the walls were not usually constructed with conversion in mind. These two facts mean that you have to deal with three problems if you want to use your garage as a living or truly dry storage area;
The concrete floor will be damp – it probably does not have a 'membrane' (a sheet of plastic laid under the concrete when indoor floors are constructed). This may not be a problem with newer homes, but you need to test the floor to be sure. You could buy a Damp Test Meter to help you in assessing the walls and floors.
The damp proof course (DPC) may not be at the correct level – in garages it is usually above floor level – look for a black line in the mortar joints. This means that the exposed part of the wall below the DPC will always be damp. You may need to inject a Silicone Injection Cream DPC product, like UltraCure and 'tank' any parts of the wall that are underground (earth retaining) with Aquastop Tanking slurry.
The main house wall, against which the garage may be built, may not have any cavity trays or weeps above the line of the garage roof. This means that the 'party' wall with the garage will always be slightly damp. This can be best dealt with by fitting an Air Gap Membrane, which allows the wall to breathe, but into which you can plaster or plasterboard without fear of damp spoiling your decorations.
So, to be able to cover the floor with any type of flooring you need to:
check the DPC level – find the black line and measure its height above the floor (inside) and the ground (outside).
check for damp – use our simple test below
To check for damp:
You could buy a Damp Test Meter, or carry out a more basic test as follows;
- brush a small area free of all loose material and stick a square of clear plastic (say about 100mm x 100mm) to the concrete with plastic tape. Leave overnight. If there is any moisture under the plastic in the morning you have some damp in the concrete.
When you are ready to proceed with these checks call Property Repair Systems on 01626 336180 for detailed advice – your particular garage construction needs to be discussed, so that your new floor is laid correctly.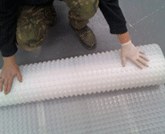 Sealing a Damp Floor
If your test shows that the concrete floor is damp you will need to seal the surface and the floor to wall joints BEFORE you lay any type of floor.
If you do not seal the surface of the floor the moisture that constantly evaporates into the existing, well ventilated, uninhabited garage will become a real nuisance, condensing on cold surfaces, causing mould to grow and even causing rot in timbers. If a wood strip floor is laid it will certainly absorb this moisture, swell and lift.
So, it is essential that the floor surface is sealed with a Vapour Barrier Membrane or a liquid product, such as Ultra Epoxy Seal.
These types of product can only be successfully applied to a properly prepared surface and the floor to wall joint must be dealt with first.
The joint around the floor, where the floor concrete butts up to the walls, is usually rough and open. It is here that moisture vapour will try to escape once you have coated the walls. So this joint needs to be opened up to a slot at least 25mm x 25mm (1 inch x 1 inch) in the floor edge and then filled with a special waterproof material,Structural Epoxy Pouring Grout.
Once the joint has been sealed the floor can be coated. The coatings needs to be taken up the wall far enough to join with the DPC.
Floor Covering Type
You can fit:
If you need help with Garage Floors or Walls, or coating products Property Repair Systems staff will be pleased to give you completely free, no obligation advice on 01626 336180.