Gel fires have the unique ability among all forms of central heating, in that they can pay for themselves very quickly! As well as buying beautiful fires which can be free standing, wall hung or even placed outdoors, its also easy to make your own Gel fire using proprietary products available on the market. See the DIY Gel fires section below.
How many times during the summer do we get a cold night when turning on the heating is more trouble, and more expensive than its worth but its too cold not to?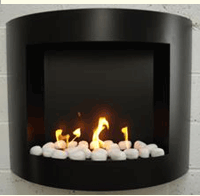 A Gel fire is not only flueless, smoke and fume free. It is portable as well! From the small stone, decorative bowls, to the large wall mounted or free standing fires, Gel fires will give you instant, affordable heat with no mess.
The Gel, in a Gel fire, is a bio alcohol which burns as a naked flame and gives out heat in proportion to the size of the flame. They are easily lit with a match or lighter and the heat is instant. No waiting for radiators to warm up or boilers to pump. When you are warm enough, simply place the supplied lid on the flames and they will go out. The only maintenance required is to wash out the container after every three or four uses to prevent a residue build up.The Gel itself will last for approximately 5 hours per 1 litre and there are no side effects from burning this type of fuel and no special ventilation is needed. Standard room ventilation is plenty.
You may even add essential oils to the bio fire gel to infuse the room while you get warm.
DIY Gel fires: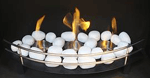 A DIY Gel fire is a relatively simple, but hugely rewarding task. There are several companies on the market that can supply you with all the products you need to make a beautiful fire. The fire on the left is greated by using 4 simple products. If you have an existing fireplace, a DIY gel fire is easily positioned in the existing fireplace, on any existing fire grate. Even if you do not have a fireplace you can create a lovely gel fire.
In most cases the grate comes complete with stainless steel fuel inserts. The fire proof logs, coals or stones are placed round the insert, the gel poured into the containers and lit. It really does not get any easier.