Getting a quote from a builder or tradesman is not as easy as you might think and here is the truth. Sometimes, despite adverts saying "No job too small" the job you want doing is just not worth the builders while. Builders can see at a glance how long a job will take and how much the materials will cost. Your house might take 30 minutes to get to, and 30 minutes back. The materials have to be ordered and picked up so that's another hour. The builder now has to cover those two hours. The job you have planned may only take an hour but he has to charge you for 3 hours, not including fuel, insurance, tool costs and profit. A 1 hour job is going to cost you as much as a 6 hour job and he/she knows you are going to say no because he/she could tell by your attitude that you thought is was a really simple job which will only take 5 minutes.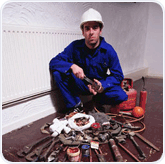 Result - You don't get a quote?
How do you get over this? Easy. Contact a company which will send you the right builder for the right job.
See our section on Cowboy Builders to learn how to ask the right questions for builders and tradesmen of all sizes. Below are some of the questions you should be asking.
The book above tells you how to stay in control when you have builders in your house !
Do you have Public Liability Insurance?
What qualifications do you have ?
What guarantees do you give and are they backed by an insurance company?
Before you get to question the builder, you have to choose the builder and to choose the builder you need to get quotes from at least three. Make sure you have a list of every single thing you want the builder to do, including tidying up, and ask him/her to provide a quote based on that list.
Make sure you have a contract in place which covers all of the work. A basic building contract can be downloaded from a few places on the web.
There are many companies who offer a "Find a Tradesman" service on the web. However vetted a website says they have been, it is still really inportant to check out references. Do not rely on others to take responsibility for the traadespeople you employ.