The use of coloured glass is a great way to improve the style of your kitchen.
The Glass splashback can be placed behind cookers or sinks or (if you feeling adventurous) be used as an alternative to tiling or other finished surfaces between worktops and wall units.
Glass splashbacks can be manufactured in multiple styles and varying colours (most bespoke glazing companies can match any wall paint colour to the glass splashback).
Glass surfaces can also now include Digital Printing where you can supply your own image which is copied onto the glass. It can be fun to have family portraits on the wall or, as we have seen once, pictures of the home owner doing the very DIY jobs on which the images were displayed.
Back lighting for your glass splashback can also be installed to create varying lighting moods or to highlight certain areas or your visual images.
The finish texture can be changed with each panel being available in matt, gloss, frosted or metallic look. Bespoke manufactures can offer your glass splashback in any shape. Don't get stuck with the idea of tiles having to be square or rectangular. You could also consider increasing the size of your glass splashback to incorporate the entire length of your kitchen work tops (kitchen work tops can be created in toughened glass).
If your Cooker or stove is free-standing, you will probably want your splashback to continue below the work surface height at the rear of your cooker / stove to give a clean visual finish to your splash back. You may have a gas / electric hob cut into your worktop surface then all you have to do is measure the width and height of the space you want your glass splash to fill.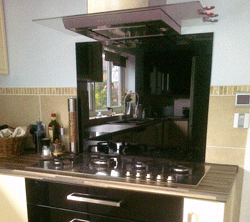 With the use of glass as a splashback, you will need to use toughened glass. This will mean if you are fixing the splashback with screw fixings the holes for the fixings will have to pre drilled by the glass splashback provider. Any "cut outs" for power sockets, TV points and telephone sockets will need to be made before the glass is toughened as this can't be done after the toughening process has been completed.
Many people believe toughened glass is made as other glass and then work is done to it. This is not true. All glass work is done to ordinary glass (be it laminated, plate, georgian glass etc) and then the glass is toughened.
Screw fixings come in many designs but you will require screws that have an internal thread to accept a finished screw cover. These have removable, domed heads and are often called mirror screws. See our project on types of screws for more information.
If you are using an adhesive method of installing then suitable adhesive can be used to fix your splashback. Adhesive pads can be used, or construction adhesives such as Gripfill or No Nails etc. Click on the link to find out more about using super-strength construction adhesives. You may wish to consider using a heat resistant sealant or adhesive for this job.
With both methods of fixing it is recommended that a length of batten is fixed in place at the correct height to support and carry the weight of the glass while the installation process is completed.
If you have an inset (cut in) gas / electric hob to your worktop, a gap of no more than 3mm should be left along the bottom of your glass splashback to allow for sealing between the glass and worktop. This must be calculated when you are measuring up the size of your required glass splashback.
You should always check with your cooker / stove manufacture whether there is a minimum distance that must exist between your glass splash back and the gas jets or electric heating elements.