Interior doors (or internal doors) come in a variety of finishes ready for any room. The main types are:
Flush Interior Doors
Flush doors are simply doors with a completely flat surface on both sides. They can be bought "pre-finished" or ready to paint. Available for both the interior and exterior Most merchants and DIY sheds have a range of flush doors which offer simplicity with a great finish. One of the best features of these types of doors is that you can reduce them in size, add to them and due to their popularity as they now feature on most modern and new build properties, many after market products can be purchased such as locks and other furniture, all available in many different styles and for many different applications.
Flush doors can come in solid format which is a door made of solid wood or hollow format which is lightweight and comprised of two layers of thin timber separated, usually, by a lightweight honeycomb core . Solid flush doors are usually used as firecheck doors of which more information can be seen in our firecheck doors project.
Panel Interior Doors
Panel doors are doors which are divided into panels set back from the door face. There can be any number of panels and they can form any number of patterns. Panel doors can be made out of timber sheets set into a timber frame structure or by fixing pressed hardboard sheets onto the frame of the door itself. Although in the past they were not regarded as very stylish and often their appearance was rather bland, today this has changed as there are a huge range of styles available including half single glazed and also in a huge range of colours and material types.
Panel doors can also be bought to conform to firecheck safety standards and come in different varieties of timber. Panel doors need not have square panels and many interesting shapes can be moulded and formed in paneled doors.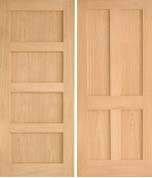 Glass Interior Doors
Glass doors from will allow plenty of light to play around the home. They come with full, easy fitting instructions and will fit into a standard door frame as long as its corners are square. If your door frames are not of a standard size, glass doors can be made to measure. 8mm toughened glass to BS 6026 is used for all glass doors. These doors can be bought with either a sandblasted or a smooth finish. The sandblasted finish is shown in the image which can be clicked on in order to see the full range.
If you are looking to update and give your property that modern and contemporary feel then glass doors are a very good choice.
Framed Ledge and Brace Interior Doors
Ledge and brace doors are extremely fashionable and are able to give a real "cottagy" and traditional feel to the most contemporary of properties. They are prone to quite a lot of movement however and now a solid oak door can be bought from most merchants and DIY Shedswhich looks and feels the part in every way.
Normally constructed using a Z-shaped frame with tongue-and-groove interlocking boards attached they can be quite heavy in weight but this can depend on the thickness of boards used. Due to their construction they are normally very strong and hardwearing and can also be planed and shaped to fit pretty much any door way.