Magnetic catches are an ideal method of providing hidden access points or simply to keep a door, or cupboard open or closed. The principle is simple. One side of the catch is a magnet, or series of magnets and the other side is a piece of steel.
In this project we have closed the gap between two kitchen units to hide the stop cock and associated pipe work behind. The black section in the image to the left is the cover timber hiding this gap. As you can see it is a tidy job and looks entirely permanent but the cover timber is easily pulled off to allow access to the stop cock behind.
The magnet part of the catch is fixed onto some battens which in turn are fixed to the unit and the steel plates are fixed to the cover timber.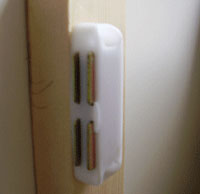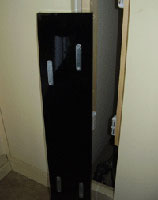 The more magnetic catches you use, the stronger the hold will be. For a really light touch where the attraction between, for example, a cupboard door and the frame it closes into, is very gentle, the magnet can be positioned a little further back on the frame so it does not quite touch the steel plate. The magnetism between the two will still work but the magnet will only exert a small attraction making it easy to open the door.