If you need any help with window frames, door frames or other frame problems, including rot and insect attack Property Repair Systems staff will give you completely free, no obligation advice on 01626 336180. The information you need may be in the project below. If not, call them.
Property Repair Systems offers you information regarding all types of frame component repair and treatment. This includes a helpline manned by experts.
What Causes Wooden Windows To Fail?
The biggest enemy of all types of timber frame is Water.
Penetrating damp – leads to rot and insect attack, even in treated timber, which is not always treated all the way through its thickness. Older buildings are most susceptible, especially where the frames sit on, or in the walls. Treatment with Boron based preservatives is essential if dampness has affected the wood (Further information can be found on the boron.org.uk website)
Rot and Insect Attack – usually associated with dampness, but mainly in older, pre-Second World war properties, where solid, non-cavity walls or thick random stone walls support the frames. This type of damage can also be treated with Boron based preservatives is essential to stop the rot and insects from destroying the frame. These potentially damp areas require careful inspection with a screwdriver. Drilling with a small diameter Auger (10mm) is advised, if you have any doubt about the strength of a component.
Joint Failure – most frames were connected with Mortise and Tenon joints, plus wooden pegs or glue. These pegs tend to be eaten away by woodworm and the frame legs then move, opening up the joints. Resin Repair, with epoxy-glass Tie Bars and injected resin, can solve this problem.
Boron rods and boron paste can also be used to cure these issues as the rods gradually dissolve and kill the rot inside wet and damp timber and the paste can be used to kill rot in drier areas of timber
Repair Method – Window And Door Frames
Cut out all the decay – you could use an extended all-metal chisel, or you can also buy or hire a 3D cutter. These 3D Cutters fit any electric drill fitted with a standard chuck and are available in a number of diameters. The 3D Cutter is a high speed tool which drills and cuts sideways.
Stabilise and Prime – prime the decayed areas inside the holes or slots with an epoxy primer solution.
Base fill or wood bond – fill up large holes with either mouldable epoxy Mortaror by bonding in a piece of undersized wood with thixotropic epoxy resin.
Fine finish – for small cracks or slots you can use a product called Raycrete or for straight edges, mouldings and curves you can use non-slump product called Timberbuild Rapid.
Treat with Boron – after all the repair work has dried, drill 10mm diameter holes above and below each damaged joint (if still made of wood) and insert a boron ultra paste with a boron rod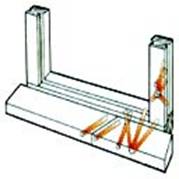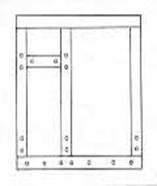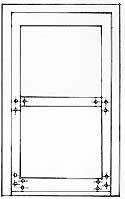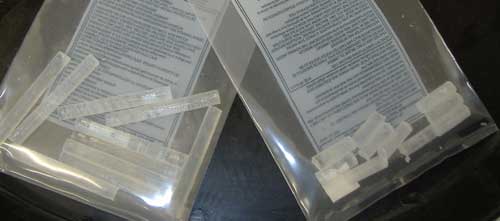 These two products work together, dissolve into the timber, kill rot and insects and prevent future attack. Cap off with dowel, wood filler or our plastic 10mm plug.
Timber-Resin Repairs
There is always the possibility, in older properties that your frames have dropped at one end because the timber has become rotten and compressed inside a damp wall.
Thanks to some incredible, yet simple technology (the Patented Timber-Resin Splice Kit) it is now possible to replace sections of all types of frames, including structural, load bearing timber frames in-situ.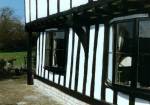 If you need help with Timber Repairs, Rot or Insect Attack, or with timber treatment products Property Repair Systems staff will be pleased to give you completely free, no obligation advice on 01626 336180.