How do I Remove Lino or Tiles From my Floor?
There is only one tool for this job and its below. Its hard work however you attempt it and despite many years of trying we have never found an "easy" way.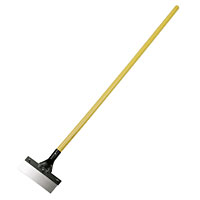 The tiles or lino should come up relatively easily using a floor scraper. To start, you might find it easier to remove just one tile and then you can get the floor scraper under the of the floor tiles to prise them up.
If you are dealing with lino sheet flooring, in order to get the scraper underneath to lever it up you may want to cut a section out. Using a utility knife (if you don't have one check out our utility knife tool reviews), score a section roughly a meter square and using the floor scraper lift the corner and prise the cut section up and off. You can then access the rest with the scraper to get it off. Obviously if you want to keep the lino you are removing then cutting a section out may not be the best way to go.
In most cases you will still be left with some nasty adhesive on the floor. To remove this is a long and painful business and can either be done (if the adhesive has gone rock hard) with a hammer and bolster chisel (the smaller pieces you attempt to break off, the better) or by following the instructions below.
How Do I Remove the Lino or Tile Adhesive That is Left?
Once the tiles are off, the only method we have found which successfully removes most (not all) adhesives is to warm it gently with a hot air gun.
When the adhesive starts to go soft, it can be scraped off. You will still have a small residue left on the surface and this can usually be removed by rubbing very hard with a cloth, or green scouring pad, dipped in solvent thinners.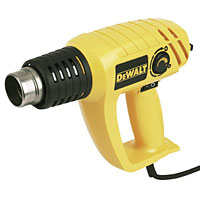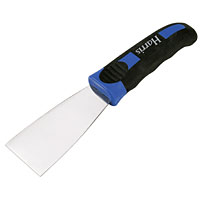 Make sure you are wearing rubber gloves for this job and safety specs may not be a bad idea as solvent can splash. Solvent thinners can be bought from your local DIY store.
If the adhesive is particularly well stuck you can lay ceramic or quarry tiles over the top of it. If you choose to do this then a good coat of undiluted PVA adhesive is a very good idea. See our project on using PVA adhesive for more information. Laminate flooring, or timber flooring can also be laid straight over the floor as long as the floor is not uneven and a good quality underlay is used.