Like plastering, rendering is a job that requires some skill and plenty of practice. We don't advise you to start on rendering house walls without some experience, but there's no reason why you shouldn't have a go at a garden or garage wall to start with.
Preparation For Rendering
Unless the wall has been recently built, you will need to clean it well – remove any plants growing up it, scrub off any mould with a bleach solution, and hose down the wall to remove any dust and dirt that could stop the render from adhering.
Try to make sure you have a couple of fine days to do the job in – if it rains too soon after you apply the render, it will be washed off the wall.
Render Mixes
For detailed information on how to correctly mix your mortar see our project on Mortar Mixes. Your equipment, including mixer, sand and cement should be as close to the work as possible. Remember to clean your tools thoroughly after use.
If it is likely to be very cold in the evening, with even a hint of frost or ice, then the work must be covered (preferably by hessian sacking or even a blanket) to stop the water in the render freezing. If it is allowed to freeze, it will expand. On thawing it will leave a void which will again fill with water when it rains. This will freeze.... and so on. See our project on Freeze-Thaw action.
Applying The Render To Your Walls
Applying The First Coat Of Render
If you have a wide wall to render, setting up screed battens can be helpful – these are 10mm thick wooden battens, which you fix to the wall. See our project on fixing to masonry to accomplish this.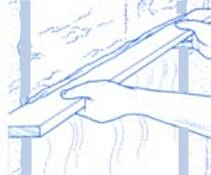 Place them about 900mm apart, and make sure the screws are flush with the face of the timber because you will be using these battens to help you level the render as you can see in the image above.
These battens serve to divide the wall up into more manageable portions, and also gives you a starting point so that you know how thickly to apply the render. Dampen the wall before you start.
Apply the render with a steel plastering trowel, using a firm hand to ensure it sticks to the damp wall. Build up the coat to the thickness of the batten, and level it by using a straight-edge as shown above. Work up the wall from the bottom, moving the straight-edge from side to side. Fill in any holes and level again. Remove the battens and fill in the holes left by them. Scrape the surplus render from the straight edge onto your spot-board.
Scratch the surface of the first coat to enable the second coat to bond – professional plasterers use an over-sized comb type tool for this. You could make your own by hammering four or five nails into a piece of wood or simply running over the surface with a screwdriver.
The second coat can be applied after a few hours of the first but if you are leaving it for a while then make sure you damp the first coat down with water a couple of times during the drying out. This will stop the render drying too quickly and cracking.
See our project on base coat plastering as the principle here is exactly the same.
Applying The Second Coat Of Render
Apply the top coat of render in the same way as the first one, but not as thickly – it should be about 6mm thick. You can either set up battens again or do this free-hand. Use the straight-edge to level the render again, fill in any gaps, and then finish it with a wooden or plastic float. Use the float in a firm, circular motion, ensuring that it stays flat against the wall so you get a nice, even finish.
It sounds simple but you'll find that the technique takes a bit of practice to get used to it, and it may take you a while before you can manage a nice smooth finish.
PLEASE NOTE:
If you do plan to render a house wall you should be aware that changes to the Building Regulations dictate that you must check with your local Building Control Department of your council as to whether your changes (I.E. the render) will mean that your wall must be upgraded to comply with the current "Thermal Element" regulations.
A Thermal Element is a wall, roof or floor which separates any heated part of a building from and space which is unheated, e.g. outside.
If your proposed rendering will cover more than 25% of the wall you may have to upgrade the wall to comply with current insulation requirements if this is possible. For a cavity wall for example, this may mean you need to insert cavity insulation.
More information can be found in Part L1B (Appendix A) of the Building Regulations Document on The Conservation of Heat and Power in Existing Dwellings. For more information see our information project on building regulations.
Additionally, if you are considering rendering a wall or walls then check out our project on the different options for rendering exterior walls found here.