Repairing A Hole Using A Piece Of Plasterboard Or Timber
To repair a hole in a hollow door, wall, or ceiling, firstly trim the edge of the hole and prepare a piece of timber or plasterboard. Cut the new piece of timber or plasterboard the same width as the widest part of the hole and 1 inch longer than the height. Turn in a screw just a couple of threads into the middle of the new piece, to enable you to pick up the piece and manoeuvre it.
Go around the edge with some heavy duty, construction adhesive, and, using the screw, push the piece into the hole. Once you have it all the way in, pull back on the screw so the adhesive touches the back of the hole surround. Use gentle pulling pressure, while moving around slightly to ensure good contact between the adhesive and the back of the surface until you are sure the adhesive will hold the piece in place at which time you can remove the screw. Leave for 24 hours and the hole can then be filled with a filler suitable for the surface you are repairing.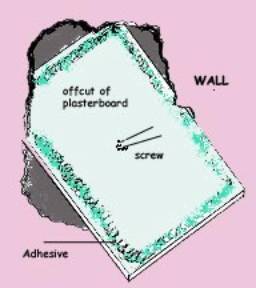 Repairing A Hole Using Timber Battens
Another way to fill a hole in plasterboard is to enlarge the hole first to make a square of a suitable size. Then cut two battens (19 x 38mm timber will suffice) and make sure they are 100mm longer than the size of the square you have cut.
Feed a batten into the hole and twist it so it is either upright or horizontal and one third of the distance either up or down or accross the hole. Make sure you have a 50mm overhang either side of the hole.
With the batten positioned screw it in place through the front of the plasterboard making sure the screw heads go below the skim of plaster on the board. Do this with both battens and then cut a square of plasteboard to fit in the hole. This can be screwed to the battens with drywall screws and the square plastered together with the 4 screw holes for the battens.
Take a look at our video sections on repairing holes in plasterboard and also our videos on suspended ceilings and watch films on plasterboard repair and installing a suspended ceiling.