This project is about repairing concrete cracks and joints in a concrete path or step when it is possible to do so without breaking up the whole area using a product called Repair Concrete by Tarmac.
This is a great product and is quick and easy to use for both trades and DIY'ers alike as it avoids traditional mixing and ratios of materials and basically requires you to apply the Repair Concrete mix to the surface to be repaired and then it is sprinkled with water and left to cure.
Repairing concrete in small areas cannot easily be done with a normal concrete mix as the aggregate is usually too large for small areas and the stones in the mix make it very difficult to get a good finish.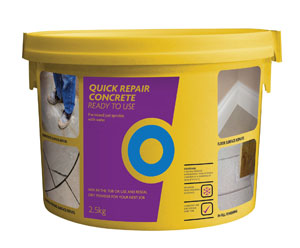 Tarmac have made concrete repair very easy with their new DIY repair concrete. For more information on this product and also other products in Tarmac's ready mix and ready to use range visit the DIY Cement website. If you would like an over view of how to use this product read on below.
Repair concrete from Tarmac comes in 20kg bags or smaller 2.5kg tubs. 1 bag will be enough to repair approximately 0.22 square metres of concrete at a thickness of 25mm.
We do not recommend using repair concrete at any more than 50mm (2") thick. Do not use when the temperature is below 5° or above 30°.
Repairing Concrete Cracks and Joints Using Repair Concrete
Brush any dust or debris from the surface to be repaired and also remove any loose concrete that may be in the area to be repaired with a stiff brush or wire brush being careful not to cause further damage and dampen the repair area down with water so it is wet. Leave it for a few seconds for some of the water to soak in.

Clean the area fully, removing all any debris or loose concrete and then dampen down with water

Open the bag or tub of repair concrete and pour enough of the mix in to the area to be repaired ensuring that you have a good covering. Please remember no more than 50mm thick

Sprinkle in the repair concrete mix straight from the bag, filling the area to be repaired

Level out/off the mix using a trowel, float or straight edge of some kind, ensuring that the repair area is flush with any other adjoining areas and you will not end up with a proud repair that sticks out or above its surrounding surfaces

Level off the mix in the repair area with a float so that it is flush with any surrounding areas

Use a watering can with a fine rose head to sprinkle water over the repair area and the mix until it is all wet. However please also ensure that you do not end up with puddles on the mix. To ensure that this does not happen sprinkle the water lightly in stages until you get the required amount of water covering the mix

Once levelled off, sprinkle water over the mix using a watering can with rose attached

Once wetted down, compact, or float the concrete using a polyurethane trowel, ensuring that it is flat and smooth

Float over and level off the mix once you have sprinkled water over it

If you find that you have a few dips in the repair still you can sprinkle in some more of the concrete repair and then float over again to get it level. Sprinkle over some more water to dampen it down. Again, don't add too much

Sprinkle in some more of the concrete repair mix if you have any dips to fill

Damp down the concrete repair area using the watering can and rose as you did in the previous step no more than 2 hours after the initial sprinkling and levelling. By doing this you can prevent the concrete from drying out too quickly and cracking due to shrinkage
Once you have completed the above steps and you are happy with the repair, cover the area over with polythene (a bin liner will be suitable) for 7 days to ensure that it hardens off correctly without any disturbance. The initial set for this repair concrete is about 30 minutes but do not tread on it for 7 days until it has had a chance to harden off naturally.
If you are repairing concrete cracks and joints in a rather high traffic area such as a walkway or path etc.... then it may be a good idea to surround it with some cones or bollards etc.... to make sure that no one inadvertently stands on it and ruins the finish.
To find out about creating other concrete mixes visit our mixing concrete project.