Removing and replacing grout or "raking out" as it is known is not a nice job. Care must be taken to avoid damaging the tiles and it is very repetitive, The old grout must be removed to a depth of at least 2mm, preferably 3mm for regrouting to work properly.
There are a couple of reasons for wanting to re grout a wall. If the colour you have needs changing, if it was not done well in the first place or if it is stained, brown or black, and mouldy.
In the third instance we would strongly suggest that before you start raking out the grout you spend some time removing the mould. See our project on mould removal. If the mould is black and it is cleaned properly, there may be a chance you do not need to re grout.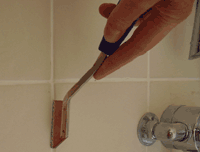 If the mould is brown it can mean that water is getting in behind the wall tiles somehow and soaking through the joints. In this instance the water generally brings some salts with it from the wall behind the tiles and this tends to leave a brown stain in the joint. If you discover a place where water could be getting in, there is no point regrouting until you have stopped the leak.
To regrout there is only really one effective tool and that is called a grout rake. It is purpose made, with replaceable blades and takes a fraction of the time it takes to do the same job with an old nail!
Place the grout rake in the joint and push quite hard. Move the rake up and down and you will see the grout begin to powder and drop. Grout is tough so this takes some time but, as said before, 2mm is the very least you need to remove to allow the new grout to stay in the joints.
See our projects on ceramic tiling and how to grout wall and floor tiles to finish the job. We also have other tiling projects so if you look to the right, under "Related Projects" there will be plenty there to help you.
You might also find it useful to go to our video sections on grouting and the basics of decorating and grouting where you will find various other films.