Finding Building Plots for Housing Developments or Reducing the cost of your Self Build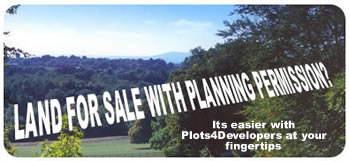 Buying a large area of land for development need not be limited to those who run large building companies. Getting a group of like minded self builders together and sharing in the cost of a large building plot can considerably reduce the cost of an individual home. Click through on any of the images and links below to find land suitable for development. Aerial photography can show you a plot long before you put in an offer and a registered email alert can give you a huge advantage over other land seekers.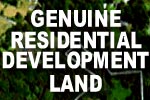 There are quite a few web sites online today and many of them are designed to take the hassle out of finding land. They are residential development land finding tools which enable you to search a database or list of plots, includes aerial images and maps, that will help you find and assess plots of land from your computer.
Many are verified to be genuine building plots or renovation opportunities (not green belt or development land)
Thousands of sources of information on land
New plots added daily
Most have their database's checked for accuracy and updated every day to ensure that you are receiving the most up-to-date information.
Many include Aerial Image facilities so that you can view the entire plot.
Some offer an Email Alert service
Some very useful links for self build information.

You will be very fortunate if you find a flat plot of land, devoid of trees, easy access and with all services conveniently located for connection. There are many considerations when you find a plot and we have outlined below some things to look out for. Just because we are listing them doesn't mean that any will necessarily pose a problem, but we hope we have pointed you in the right direction to determine your course of action before making your mind up.
Land is on a slope – if the slope is not gentle then you may have to build retaining walls, which can increase the build cost considerably. Discuss this with your architect. You may also have to dig deeper trenches for the foundations, and have stepped foundations but this should be no problem at all.
Depending on the layout and slope, there may be difficulties in getting bulky materials to where they are needed – think about where blocks (a lorry load at a time) and 10 ton loads of sand can be delivered, where the cement mixer can be set up etc. You may need to hire a pump lorry, but the cost may not be exorbitant and, oh the joy of a job made easy.
Land has trees on it – there are a number of concerns here, the first being the effect they may have on the stability of the house. Discuss with your architect, and who should be able to recommend an appropriate consultant, who will consider the proximity of the trees to where the building will be, whether the soil is "shrinkable", such as clay and whether the trees are mature or still growing. Don't get overly concerned before any investigation is carried out but, the worst case could be significant foundation or drainage problems due to subsidence or heave
If the trees are on the edge of a highway and may impact your development then you should contact the local council. You will also need to find out whether the trees have preservation orders on them - you can buy a copy of a Tree Preservation Order from the council.
Services (gas, electric etc.) crossing the land – this is not an uncommon situation but you should get a survey carried out to detect them before any excavations are made
Radon gas – your architect will get search results for you and will include the appropriate measures into the detailed building plans. The most common level of Radon protection, basic protection, is to have a non-permeable barrier across the ground floor. Higher levels of protection are really run-of- the mill and nothing to be concerned about
You are not clear where the boundaries between the property and a neighboring properties are – this will not often be resolved immediately or whilst on site and you may need to refer to the conveyance deeds, the HM Land Registry title plan and perhaps consult a chartered land surveyor

Calculators
Mortgage repayment
Mortgage amount

Special reports
House prices
Interest rates

Related sections
Mortgages
Moving home

Useful links
The Housing Corporation
Independent housing ombudsman
UK housing information resource
National Association of Estate Agents
Council of Mortgage Lenders